The health reform law requires employers (with more than 50 employees) to pay a penalty of $2000 per employee (which is substantially less than what they spend on employee health benefits) if they choose to cancel health coverage after 2014.
Mercer recently surveyed more than 2,800 employers for their annual National Survey of Employer-Sponsored Health Plans. According to the survey:
20% of companies with 10-499 employees plan to cancel their health plans in 2014.
6% of large employers (companies with 500+ employees) plan to cancel their health plans in 2014.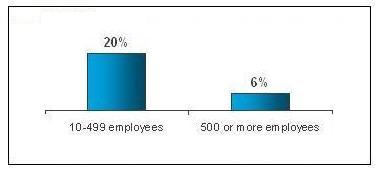 It is likely that 100% of small employers (companies with less than 50 employees) will cancel health plans in 2014 because small employers are not subject to a penalty.
Click here to read the full survey release.