With the COVID-19 pandemic in its third year, the cost of healthcare and health insurance is on many people's minds. Although health insurance is meant to protect us financially when we are sick or injured, the cost of a major medical expense like a hospital stay is still often unknown before the bill arrives in the mail.
Here are a few infographics that show the average cost of hospital stay by type of insurance, including the costs associated for people without coverage. This article also looks at the cost of various medical procedures.
Download the full infographic summary
Disclaimer: The info represented in these infographics does not necessarily reflect the views of PeopleKeep, its staff, or its affiliate partners.

How much does an average overnight hospital stay cost?
The average insured overnight hospital stay costs about $11,700. But, this price tag varies significantly by type of insurance coverage (and if you have insurance coverage at all).
Let's break it down: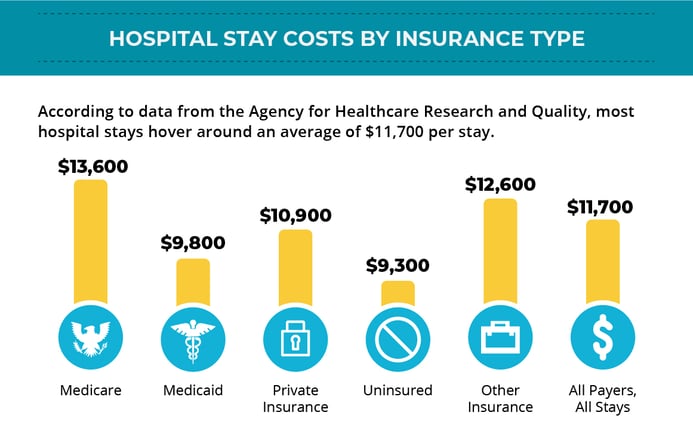 How insurance helps
While this data shows that uninsured patients have a lower average hospital stay cost, it's important to remember that insurance companies often set an out-of-pocket maximum. While your bill may be high, you'll only be required to pay the amount your provider has set as your maximum.
In addition, most insurance companies will often negotiate your hospital costs, helping you get a discounted price compared to what you were originally charged.
Take a look at what you might pay for each hospital bill without insurance: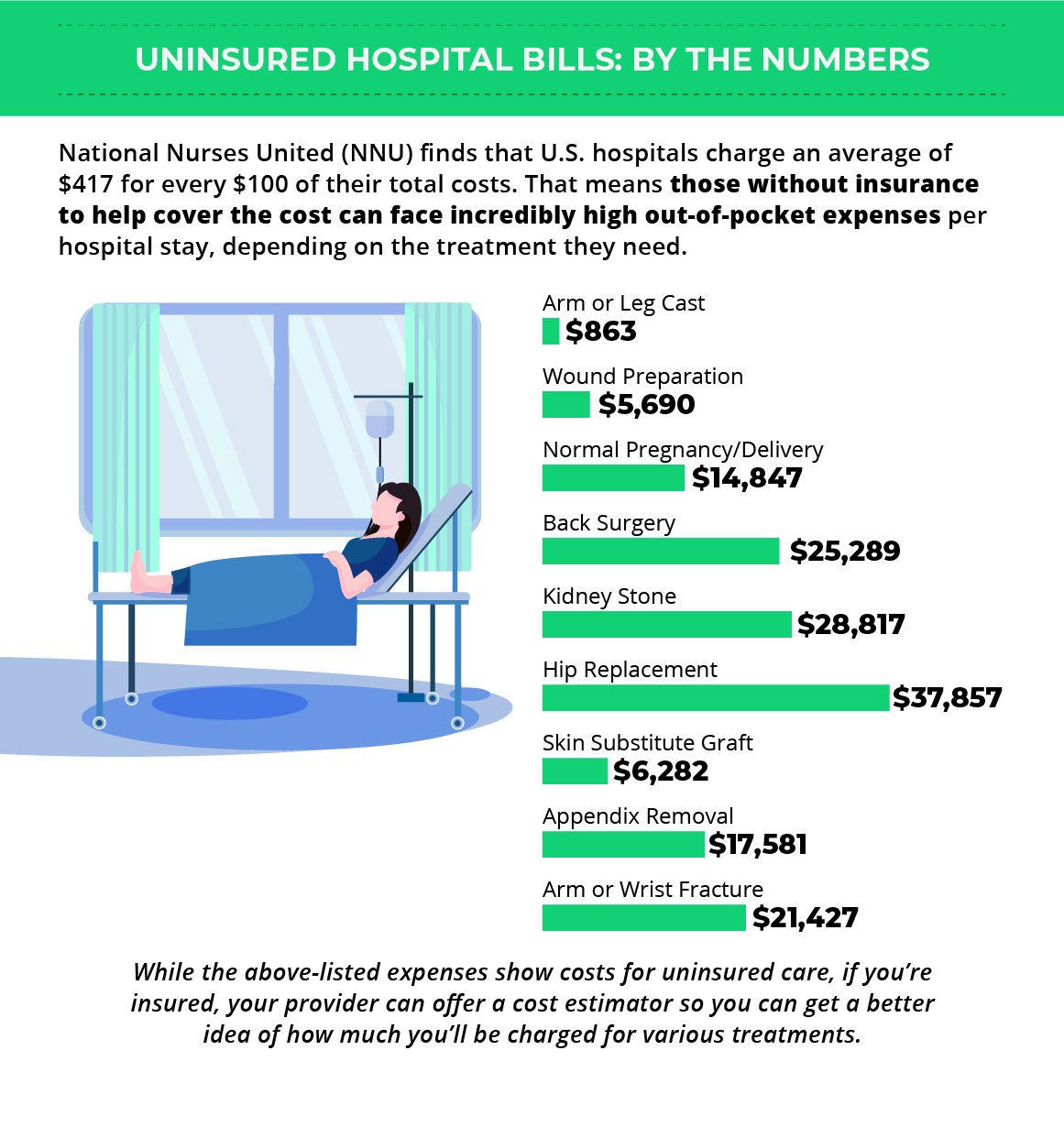 Even with insurance, hospitalization costs can be staggering. Sometimes, patients who received treatment at a hospital that's out-of-network for their insurance company would get surprise medical bills. These surprise bills incurred additional healthcare costs for patients. In 2022, the No Surprises Act took effect, helping to eliminate or reduce many surprise bills across the country.
Estimating your hospital bill costs
Whether or not you have insurance isn't the only thing influencing your hospital bill. Take a look at a few common factors that can play a part in how much you pay out of pocket: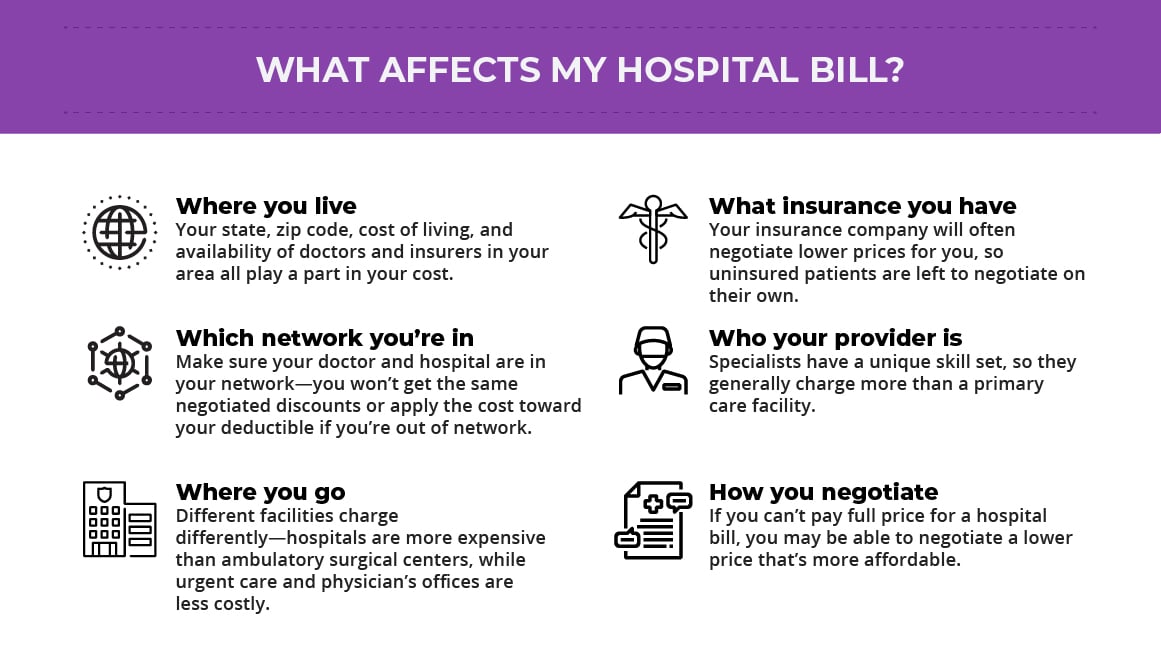 A smart way to get medical bills covered
With the costs of hospital visits and overnight stays on the rise, it can be daunting to think about the price you'll pay if you're ever sick or in an accident. That's where health reimbursement arrangements (HRAs) and health stipends can come in handy.
HRAs
If you're an employer, an HRA allows you to reimburse your employees for their individual health insurance premiums and qualifying medical expenses with tax-free money. To learn more about how HRAs can help offset your employees' medical bills, see the infographic below: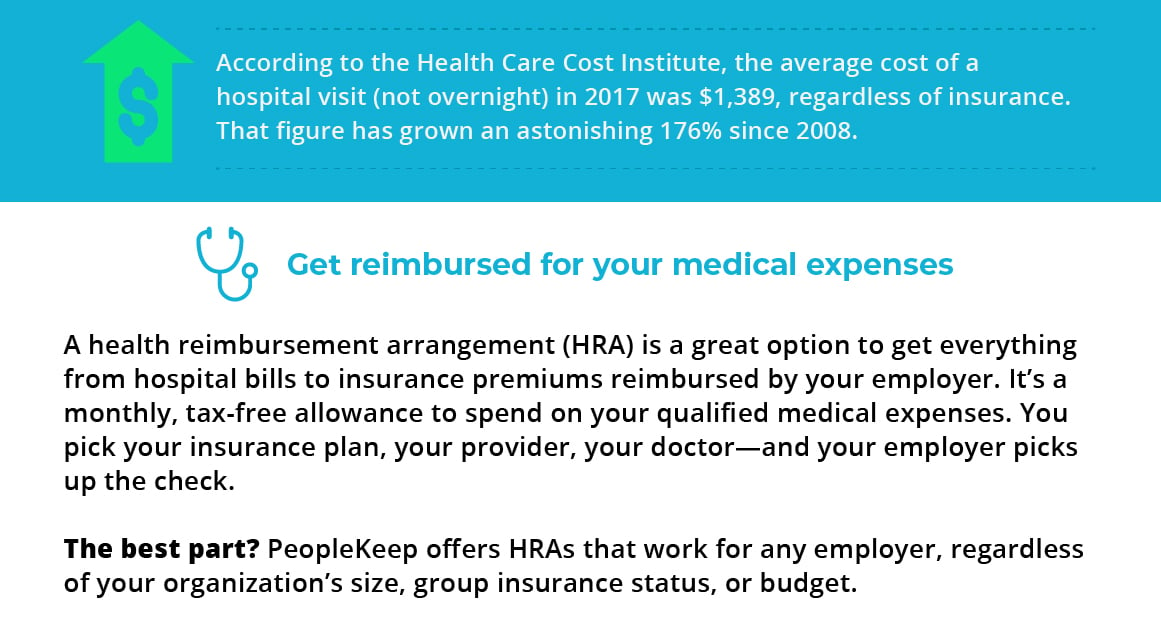 If an employee has a medical bill from their hospital stay that qualifies for reimbursement, an HRA allows you to reimburse them up to their monthly allowance.
See which medical expenses you can get reimbursed through your employer with an HRA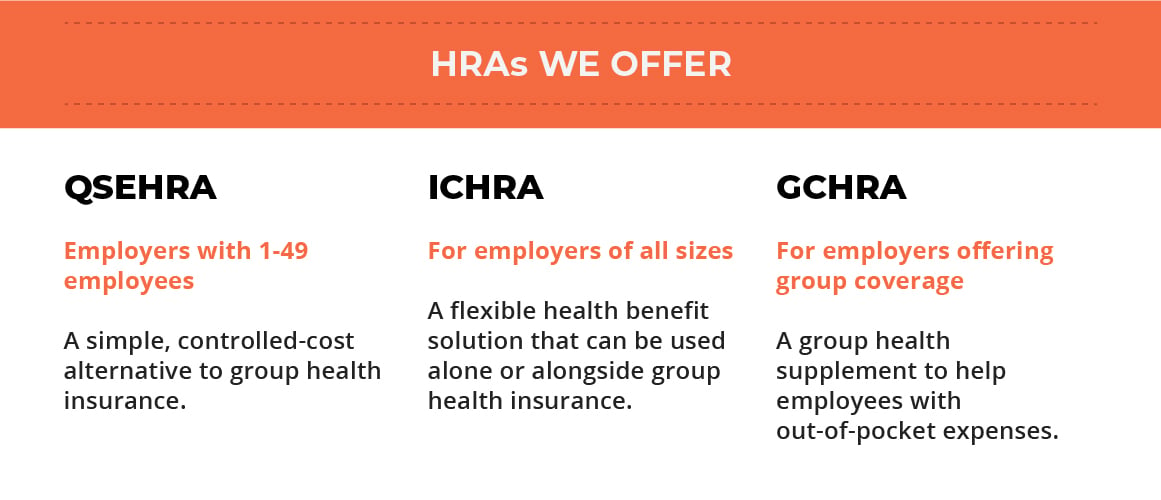 Sources: American Hospital Association, 2021 | MD Save, 2021 | National Nurses United, 2020 | Healthcare Cost and Utilization Project, 2020, 2018 | Health Care Cost Institute, 2017
If you own a small business with fewer than 50 full-time equivalent employees (FTEs), a qualified small employer HRA (QSEHRA), might work best for you.
An individual coverage HRA (ICHRA) is an excellent option for businesses of all sizes that want more flexibility with their benefit, including the ability to create employee classes.
HRAs aren't just available for those with individual health insurance coverage. If you already offer a group health insurance plan, such as a high deductible health plan (HDHP), you can use a group coverage HRA (GCHRA) to supplement your policy. This ancillary benefit is also known as an integrated HRA.
Not sure what HRA is best for you? Take our HRA quiz!
Health stipends
Another option for your organization's health benefit is a health stipend. This taxable employee stipend allows you to reimburse your employees for their medical expenses up to a customizable monthly allowance. Health stipends work like an HRA but with fewer regulations.
While an HRA is often a better choice for organizations looking to offer a health benefit to their employees, health stipends have their advantages. If your employees receive advance premium tax credits, they can use their benefits without affecting APTC eligibility. You can also offer stipends to more types of employees, such as international workers or independent contractors.
See the difference between health stipends and HRAs with our comparison chart
Conclusion
The average cost of healthcare and health insurance continues to rise each year. This is especially burdensome for the uninsured.
With personalized health benefits such as HRAs or health stipends, you can help your employees afford their medical expenses, including costs associated with hospitalization.
If you're looking to provide your employees with a health benefit, PeopleKeep can help. Our HRA and employee stipend administration software helps organizations like yours to easily set up their benefit in minutes.
Schedule a call with a personalized benefits advisor today to see how a health benefit can fit your organization's benefits package
This blog article was originally published on November 21, 2013. It was last updated on April 26, 2022.