Effectively manage costs
We understand that no construction project is the same and so small construction firms operate differently than most small businesses. That's why we know flexibility is key to managing your cash flow successfully.
An HRA is a good fit for a small construction company like yours as it offers the ability to offer tax-free money to its workers for health care expenses. Your small business can decide in advance the amount of money to contribute, with the flexibility of adjusting the amount based on budget constraints throughout the year. It's great for your workers too as they have the flexibility to use the allowance to purchase the health insurance and services that best fit their needs.
There are different types of HRA plans, each tailored for different types of businesses. You can learn what type of HRA may be best for your construction business here.
Hire and keep top workers
With construction workers spanning from baby boomers to millennials,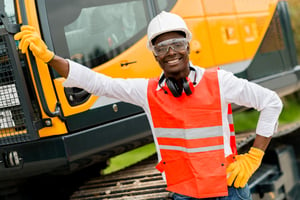 offering a health benefit that works for all types of employees is crucial – especially when it comes to recruitment and retention.
An HRA is appealing for all types of construction workers as it gives them the flexibility to choose the health insurance and eligible expenses that best suit them. The flexibility and cost savings inherent in these tax-free plans make HRAs a great recruiting tool as workers recognize its value and fairness, regardless of their age or situation.
Simplify administrative processes
Running a small construction business can be administratively demanding. With massive amounts of records, regulations, and timelines to stay on top of it's no surprise that work-life balance is especially tricky for small firms.
Fortunately, adding an HRA through PeopleKeep doesn't add more to a small firm's administration burden. Both you and your employees can administer the HRA in just minutes a month through PeopleKeep's easy-to-use, cloud-based software.
Yes, it's just that simple! Once you set the employee allowance amount, PeopleKeep educates your employees on their HRA plan and how to use it. Your employee buys the health care plan and services, and uploads expense documentation to their account. Next, PeopleKeep verifies the expenses and notifies you and your employee of the verified amount. Then, you simply add the verified amount to your payroll and reimburse your employees on your own timeline.
What about keeping up with the ever-changing health care regulations? PeopleKeep does that for you! All required documentation is accessible at any time directly from the software. You can view and download what you need when you need it.