When evaluating a new or existing health insurance program, your organization's contribution strategy is an important consideration. In simple terms, how much will individual employees pitch in for coverage, and what percent of health insurance is paid by the employer?
With employer-provided health insurance, the organization must contribute a minimum percentage and employees pay the remaining amount, usually through a payroll deduction. So, just what percent do employers typically pay in the United States?
Across the country, a Kaiser Family Foundation survey found the average percent of health insurance paid by employers is 82 percent for single coverage and 70 percent for family coverage. Let's dive into these stats a little deeper.
What's the best health benefit option for your organization?
Download the Small Business's Guide to Health Benefits 2020
Employers Pay 82 Percent of Health Insurance for Single Coverage
In 2019, the average company-provided health insurance policy totaled $7,188 a year for single coverage. On average, employers paid 82 percent of the premium, or $5,946 a year. Employees paid the remaining 18 percent, or $1,242 a year.
For family coverage, the average policy totaled $20,576 a year with employers contributing, on average, 70 percent, or $14,561. Employees paid the remaining 30 percent or $6,015 a year.
Small Employers Contribute Significantly Less to Family Coverage
For small employers, however, the data tells a different story. According to the 2019 KFF/HRET survey:
Compared to covered workers in large firms, covered workers in small firms on average contribute a lower percentage of the premium for single coverage (16% vs. 19%) and a higher percentage of the premium for family coverage than workers in large firms (40% vs. 26%).
Only 47% of firms with 3 to 9 workers offer coverage, while virtually all firms with 1,000 or more workers offer coverage
Covered workers in firms with a relatively large share of lower-wage workers have higher average worker contribution rates for family coverage than those in firms with a smaller share of lower-wage workers (41% vs. 30%).
Covered workers in firms with a relatively large share of lower-wage workers (where at least 35% of workers earn $25,000 a year or less) have lower average premiums for both single and family coverage than covered workers in firms with a smaller share, likely because their plans are less comprehensive.
Percentage of Firms offering health benefits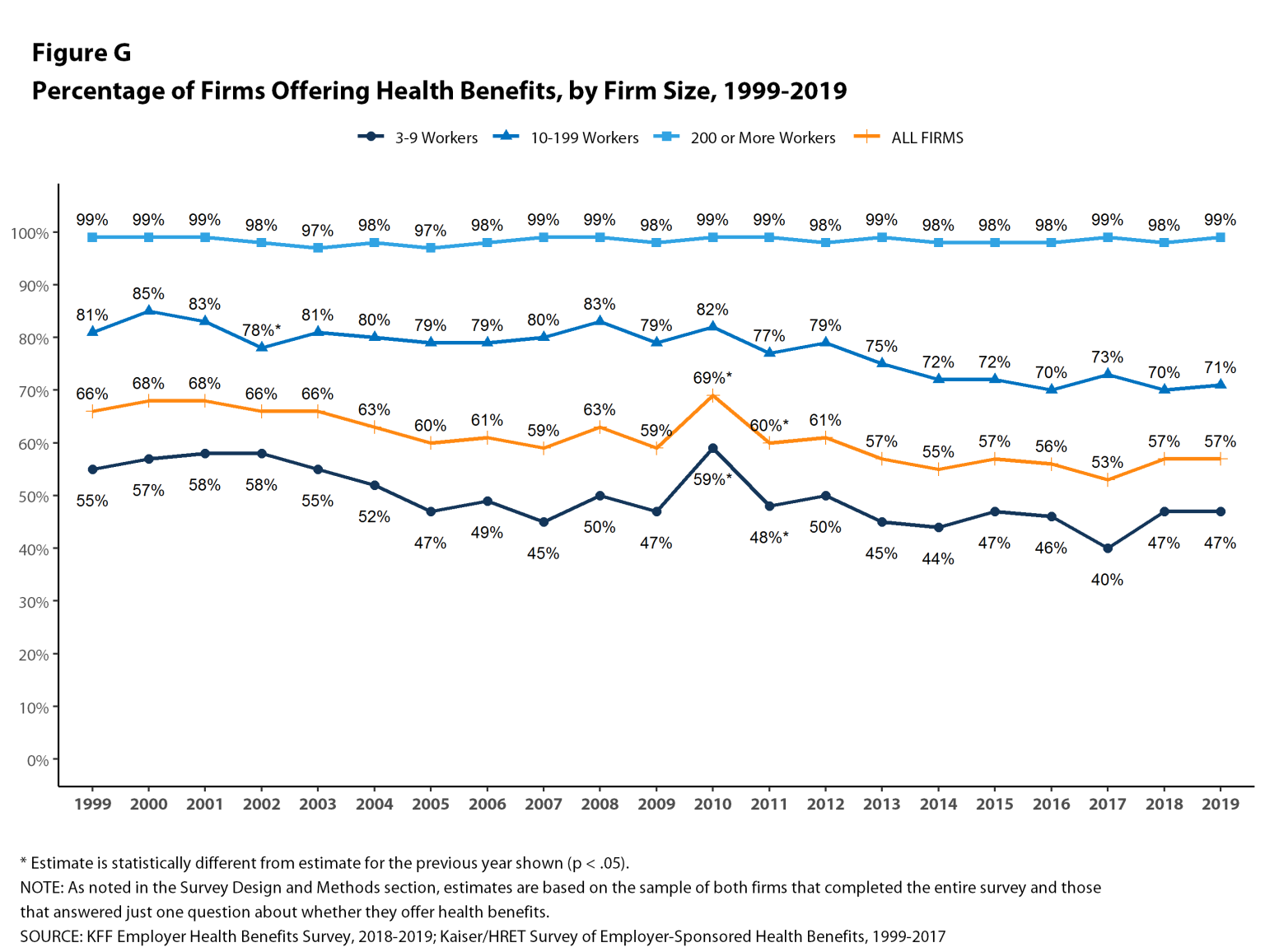 Why are so few small employers providing health benefits? One possibility is cost. The average premium for family coverage has increased 22% over the last five years and 54% over the last ten years, significantly more than either workers' wages or inflation. An HRA is a cost-effective way for small employers to provide health benefits.
See how qualified small employer HRAs (QSEHRAs) helped our customers last year:
2020 PeopleKeep QSEHRA Annual Report
Alternative Contribution Strategies
As small employers grapple with health insurance contribution strategies and tight budgets, they often turn to alternative contribution strategies.
For example, instead of purchasing and paying for a company-provided health insurance policy, small employers are providing a health reimbursement arrangement (HRA)—an arrangement in which employers provide an allowance toward employees' individually-purchased health insurance premiums. Because these arrangements allow employers to define their contribution, small organizations often find them to be the more affordable option.
There are two great options for employers who decide they cannot afford traditional group health coverage for all of their employees.
Individual coverage HRA (ICHRA)
The individual coverage HRA (ICHRA) is a health benefit for employers of all sizes. With an ICHRA, small organizations can reimburse employees tax-free for individual health insurance premiums and other medical expenses. It can function as a stand-alone benefit or as a separate option in an organization's health benefits program, alongside group health insurance. There are no limits for company size and no restrictions for allowance amounts.
Download our beginner's guide to ICHRA
Qualified small employer HRA (QSEHRA)
A qualified small employer health reimbursement arrangement (QSEHRA) is a health benefit for employers with fewer than 50 full-time equivalent employees who don't want to offer employees group health insurance. With a QSEHRA, employers reimburse employees tax-free for their medical expenses, including individual health insurance premiums up to a maximum contribution limit.
Download our beginner's guide to QSEHRA
How HRAs work
The reimbursement process for employers and employees include the following steps:
You set an allowance. The employer decides how much tax-free money to offer employees every month. This represents the maximum amount your organization will reimburse the employee for health care. Once an allowance is set, it is impossible to go over budget.
Employees purchase health care. Employees choose an individual health insurance plan. They can also use this money to pay for out of pocket medical expenses. You can find a full list of eligible expenses using our expense tool, though employers can limit these items according to your preference.
Employees submit proof of incurred expense. To receive reimbursement, employees must submit proof that they incurred an eligible expense. Typically, this takes the form of a receipt, prescription, or doctor's note.
Documents get reviewed. To receive approval, employees' documentation must show the service or product purchased, the amount incurred, and the date of the service or sale. Many employers choose to use an HRA administration provider like PeopleKeep to review documents and maintain compliance. Once an expense is deemed eligible, the employer reimburses the employee through their preferred method (e.g., payroll, check, cash).
Which HRA is right for you?
Conclusion
When looking at what percent of health insurance is paid by employers, we see that there are differences between small and large employers. Across the nation, employers are contributing, on average, 82 percent for single coverage and 70 percent for family coverage. Small employers tend to pay a similar percentage for single coverage and significantly less (62 percent) of family coverage. Because of the high costs and contribution requirements of traditional company-provided health insurance policies, many small employers are taking a second look at individual health insurance paired with health reimbursement arrangements.
Do you have questions about health insurance contribution strategies or small business health insurance? Leave a question below.