If you're in charge of benefits for your organization and are considering a new health insurance program, your organization's contribution strategy is an important factor in that decision. When working the cost of the new program into your benefits budget, you'll need to know how much employees will pitch in for coverage as well as the percentage you will pay.
With employer-sponsored health insurance, an organization must contribute a minimum percentage and have employees pay the remaining share, usually through a payroll deduction. So what percent do employers typically pay in the United States?
This article will discuss the average cost of employer-sponsored health insurance and what percentage employers typically pay. We'll also explain how you can use a health reimbursement arrangement (HRA) or health stipend to control your budget.
Read more about employee stipends in our complete guide
How much does group health insurance cost?
When a business provides health insurance coverage to employees, the business typically purchases a plan (or plans) from a commercial insurer to cover all eligible employees and their dependents. These plan types are known as traditional group health insurance plans, which are also known as "fully-insured plans."
According to the Kaiser Family Foundation (KFF)1, in 2021, the average cost of employee health insurance premiums for family coverage was $22,221. The average annual premiums for a self-only plan was $7,739.
Although these numbers can vary by company and provider, employers can count of annual rate increases when it comes time to renew their plan.
What percent of health insurance is paid by employers?
According to KFF, in 2021, employers covered 83% of their employees' self-only insurance plans and 73% of employees' family insurance plans. Let's dive into these stats a little deeper.
| | | | | |
| --- | --- | --- | --- | --- |
| | Employer percentage | Employer dollar amount | Employee percentage | Employee dollar amount |
| Self-only premium of $7,739 annually | 83% | $6,440 annually | 17% | $1,299 annually |
| Family premium of $22,221 annually | 73% | $16,253 annually | 27% | $5,969 annually |
Large employer contributions vs. small employer contributions
While large employers typically contribute a significant amount to employees' healthcare, in some cases small employers cover even more. According to KFF, 29% of covered workers in small firms of 3-199 employees have their entire self-only premium covered by their employer, compared to only 5% of covered workers in large firms of 200+ employees.
Similarly, 10% of covered workers in small firms have their entire family premium covered by their employer, compared to 2% of covered workers in large firms.
A possible reason for this is that because small businesses have fewer workers, it may be easier for them to pay the full premium amount for their employees—whether it be self-only or family coverage—than large businesses with significantly more employees.
What percentage of firms offer health benefits?
While virtually all firms with 1,000 or more workers offer their employees health coverage, that is not the case for small employers. According to KFF, only 49% of firms with three to nine workers offer coverage to their employees.
Small employers generally have tighter budgets to begin with, but the rising cost of health insurance can make it even harder to offer a benefit.
The average premium for family coverage has increased 22% over the last five years and 47% over the last ten years, significantly more than either workers' wages or inflation. This steady increase in healthcare costs can make it difficult for employers to continue to offer a health benefit that will provide enough value.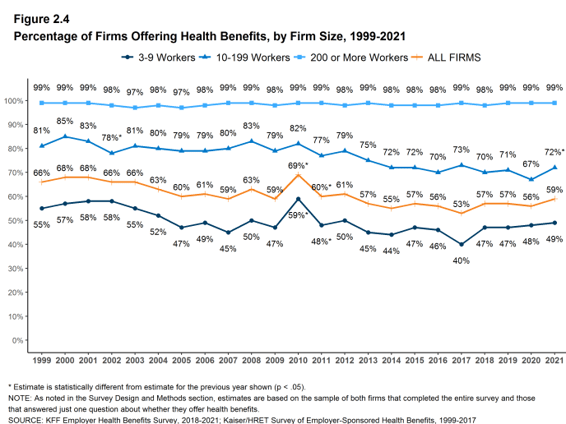 How much does group health insurance cost for employees?
From the insurance plan you choose to your employees' health conditions, many factors affect how much your employees will pay for health insurance.
Looking again at KFF's 2021 report, participation in a family group health insurance plan cost employees $5,969 annually—which was roughly 27% of the premium— and $1,299—or about 17%—for a self-only plan.
The premium cost associated with a group health insurance plan typically increases every year. To minimize or reduce fluctuation in premium amounts and to control the cost of benefits from year to year, you can change contribution strategies or health plan features.
How you can control group health insurance costs
Although healthcare is considered one of the most expensive benefits you can offer at your organization, it's undoubtedly an important investment in your company's future.
By better understanding what factors will affect your health benefits costs, you can gain greater control over your budget and set your employees up for success.
The cost of providing health insurance to employees depends on the following factors:
The insurance company.
The type of plan you choose, such as a preferred provider organization (PPO) or health maintenance organization (HMO).
The network of providers in a plan.
Plan features, such as the annual deductible, copay, and out-of-pocket maximum.
Your location.
Your contribution amount (you can move more of the cost burden onto your employees).
The demographics of your employees or your plan rates for the "risk pool" at your company.

For example, older workforces tend to have higher healthcare costs, which might increase your rates.
Alternative health benefit options for employers
If you are an employer that is struggling to meet minimum health insurance contribution requirements, alternative health benefit options can be helpful.
For example, instead of paying for a group health insurance policy from an insurance company, employers can turn to an HRA—an arrangement in which employers give employees an allowance toward an individual health insurance premium of their choosing.
Because these arrangements allow employers to personally define their contribution, organizations often find them to be the more predictable and affordable option.
The following four simple steps outline how an HRA works:
The business owner sets an annual or monthly allowance they will agree to reimburse employees for medical costs.
Employees purchase their own health insurance plan on a private exchange or the Health Insurance Marketplace.
Employees can choose a medical plan from a provider of their choice that has the features they need most.
As employees pay their monthly premiums and associated medical costs, the employer reimburses the employee for eligible medical expenses up to their allowance balance. Reimbursements will be tax-free if their health insurance policy meets minimum essential coverage (MEC).
Below we'll go over three great health benefit options for employers who choose not to provide traditional group health insurance to their employees.
Qualified small employer HRA (QSEHRA)
A qualified small employer HRA (QSEHRA) is a health benefit for employers with fewer than 50 full-time equivalent employees (FTEs) who don't want to offer employees group health insurance.
With a QSEHRA, employers reimburse employees tax-free for their medical expenses, including individual health insurance premiums up to a maximum contribution limit.
If you want more information on how a QSEHRA can help you, check out our latest QSEHRA annual report to see how a QSEHRA helped our customers this year.
Individual coverage HRA (ICHRA)
The individual coverage HRA (ICHRA) is a health benefit for employers of all sizes. With an ICHRA, small organizations can reimburse employees tax-free for individual health insurance premiums and other out-of-pocket costs.
An ICHRA can function as a stand-alone benefit or as a separate plan option in an organization's health benefits program, alongside employer-sponsored health insurance, as long as the ICHRA is not offered to employees on the group health plan. There are no limits for company size and no restrictions for allowance amounts.
Health stipends
While HRAs are an excellent option for organizations looking to lower their health benefit costs, they aren't always the best choice for some employers. HRAs are formal benefits that can come with special considerations for employees, like whether or not they can use their HRA with any eligible premium tax credit.
However, health stipends can help to alleviate these concerns. Employee health stipends are like an HRA, except they're taxable, more flexible, and have fewer regulations. The stipend is the equivalent of simply grossing up wages because it's a flat amount given to all employees that they can spend on whatever they choose.
If your employees receive a tax credit, they can keep those credits and take advantage of your employee health stipend. Furthermore, health stipends are also an excellent option for organizations with employees in other countries.
Conclusion
When looking at how much a health benefit is going to cost your organization, employers need to consider what percentage of health insurance their organization is going to cover and what employees will be expected to pay. Many large employers that offer traditional group health insurance cover most of their employees' monthly premiums, but small businesses may be less likely to cover a significant portion of expensive group plans.
These employers sometimes prefer an HRA or a health stipend because they provide more flexibility for their budget, and their employees can purchase their own insurance plan. If you think an HRA or health stipend is right for your organization, schedule a call with a personalized benefits advisor at PeopleKeep to learn more.
This article was originally published on August 12, 2020. It was last updated on October 3, 2022.
1https://www.kff.org/health-costs/report/2021-employer-health-benefits-survey/