In today's marketplace, many people get their health insurance coverage from a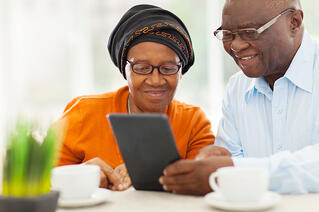 spouse's benefits plan; however, a growing number of married couples maintain separate individual health insurance coverage.
This information is particularly relevant for spouses who each want to have a health savings account (HSA). If you and your spouse each have insurance coverage that qualifies you for an HSA, and you both plan on contributing to your HSAs, you must have separate accounts. This is true even if you're both covered by the same high-deductible health plan (HDHP). The IRS has specific rules for HSA contribution limits and spouses. There are penalties for exceeding your contribution limits, so it's important to make sure you and your spouse know the rules.
How to Handle Contributions for Two
For 2017, the self-only HSA contribution limit is $3,400 (a $50 increase from 2016), and the family contribution limit remains unchanged from 2016 at $6,750.
For a married couple maintaining two HSAs—with one spouse having family coverage and the other with self-only coverage—you might assume they simply combine the contribution limits, for a total contribution ceiling of $10,150.
This is not the case, however.
The IRS gives married couples three options: Split the family contribution evenly between the spouses, allocate it according to a division they both agree on, or put 100 percent in one spouse's account. In any case, the IRS treats married couples as a single tax unit, which means they must share one family HSA contribution limit of $6,750.
In cases where both spouses have self-only coverage, each spouse may contribute up to $3,400 each year.
Catch-Up Contributions for Spouses Older Than 55
While it seems overwhelming to track contributions for two separate HSAs, it's a good idea for each spouse to have their own HSA if they're eligible—otherwise, one spouse could miss out on important benefits, like the ability to make $1,000 catch-up contributions once they reach age 55. An otherwise eligible spouse who forgoes an HSA also risks losing out on employer contributions, resulting in smaller savings overall.
Curing an Excess Contribution
If an individual or married couple exceeds the HSA contribution limit, they will be subject to a 6 percent excise tax. In this event, withdraw the excess contribution amount from the HSA before the tax deadline for that year to avoid the fee, per the IRS. If you've gone over the contribution limit, talk to your tax advisor.
Conclusion
While there is no such thing as a "joint" HSA, married couples can take advantage of the benefits HSAs offer by maintaining individual accounts. Not only does this lower the cost of individual health insurance, it also allows them to grow their retirement savings tax-free.
What questions do you have about HSA contribution limits? Let us know in the comments below.