Create a flexible and inclusive health benefit
PeopleKeep's HRA administration software makes offering personalized health benefits easier and more accessible for small and medium-sized organizations.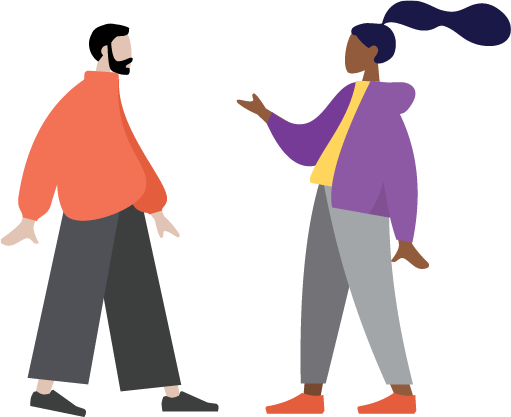 Offer an individualized health plan that can be managed in minutes
A health reimbursement arrangement (HRA) is a formal health benefit that employers can use to reimburse their employees, tax-free, for the health insurance premiums and other healthcare expenses of their choosing.
PeopleKeep makes launching and managing an HRA more accessible and intuitive for employers. We automate all the most time-consuming tasks like preparing and updating legal documentation and reviewing reimbursements—while providing award-winning customer support to employees—so that you can focus on running your business.
"One of the things I love about PeopleKeep is that it's super low maintenance and the interface is incredibly easy to use."
FEATURES
What comes with an HRA from PeopleKeep?
Compliance assurance
Legal documents are necessary for reimbursements to be made tax-free, and employers offering an HRA without compliant, up-to-date documentation can be subject to steep fines. With PeopleKeep, you'll have access to IRS-compliant legal documents to support your benefits without the need for a lawyer.
Flexibility
With an HRA, you have the ability to set different allowance amounts based on specific employee classes: a qualified small employer HRA (QSEHRA) allows for family-based classes, an individual coverage HRA (ICHRA) allows for several IRS-regulated classes, and a group coverage HRA (GCHRA) allows for bona fide job criteria.
Documentation storage
The IRS requires all employers offering an HRA to store receipts and invoices submitted by employees for at least seven years. PeopleKeep digitally stores all submitted documentation so that you can easily find it when you need it. Additionally, you'll get reimbursement summaries on your account dashboard and weekly via email.
Insurance services
Employees offered a QSEHRA or an ICHRA through PeopleKeep can access support when shopping for individual coverage. We work with several partners, including local brokers and Stride Health, who can help your employees find the perfect health plan based on their specific needs.
TESTIMONIALS
What our customers say
"We were sold on PeopleKeep because of your affordable pricing, great customer service... It fits within our budget and the product is clean, robust, and easy to use."
"PeopleKeep is modern, accurate, compliant, and user-focused. The platform helps keep our records up-to-date. We just log on and it's all there."
"Working with PeopleKeep's customer service team through the chat function has been great and responses have been fast."
How an HRA with PeopleKeep works
Design and launch a health benefit in minutes
Getting started with PeopleKeep can take as little as 15 minutes. There are a few considerations to make beforehand, such as:
Setting allowances
Choosing a start date
Launching the benefit
Once the benefit is set up, you'll be introduced to our customer success and support teams that will support you and your team. During your introduction, you'll receive a tour of the product and learn how to set up accounts for your employees. In addition, you'll learn about some best practices, and receive answers to any remaining compliance concerns you may have.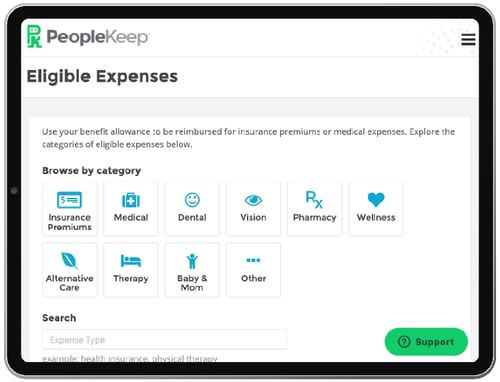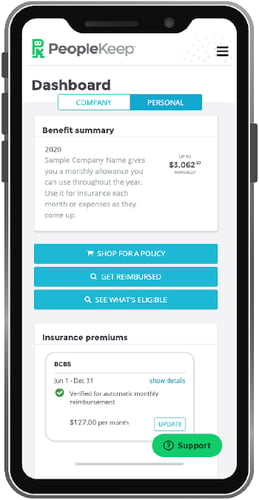 A seamless experience for your team
After you've signed up for an account with PeopleKeep, each of your employees will get their own secure, online account where they can submit expenses for reimbursement, track their allowance balance, and connect with our customer support team.
As soon as the employee has a receipt or invoice that shows they have incurred an expense, they submit the documentation through our software.
Once we receive the submission, our documentation review team will review it for eligibility and ensure each one contains the following:
A description of the incurred expense
The cost of the product or service
The date the expense was incurred
Once we've finished reviewing and verifying that expenses are compliant with HRA regulations and your benefit design, we'll notify you of any reimbursements due on your dashboard and in a weekly email.
*Some expenses require a doctor's note, prescription, or Explanation of Benefits in addition to these items to be eligible for reimbursement.
How the money works with a PeopleKeep HRA
A common misconception with HRAs is that they require a pre-funded account that holds the money used for reimbursements. The truth is that the "A" in HRA stands for arrangement, meaning the employer does not need to have a unique account or a place to store the health-related funds. Instead, there is an IRS-approved arrangement to make tax-free money available to their employees for qualified health care expenses.
Many companies—specifically third-party administrators—that offer HRAs require employers to pre-fund an account before reimbursements can be made. However, when you offer an HRA through PeopleKeep, the money stays with your company until your employees have an approved expense, at which point you simply reimburse them however you prefer.
Most employers choose to add a non-taxable line item to employees' paychecks, though some prefer to cut a separate check. Either way you choose, PeopleKeep makes it simple.
Learn more about each HRA
FAQ
Frequently asked questions
What does PeopleKeep's HRA software do?
PeopleKeep's HRA software helps employers administer their own HRA in just minutes per month. It makes health benefits smooth, efficient, and meaningful to employees. A PeopleKeep HRA gives employers instant access to legal plan documents and award-winning customer support for themselves and their employees.
What payment methods does PeopleKeep accept?
We accept credit card and ACH payments.
Does PeopleKeep have hidden fees?
We don't believe in hidden fees at PeopleKeep. The only charges that will show up on your invoices are the one-time setup fee when you first purchase a plan, the monthly base fee, and the monthly per-employee fee.
Can business owners participate in a PeopleKeep HRA?
When it comes to participating in an HRA, there are unique rules about whether owners can participate, depending on which HRA you offer. However, when it comes to excluding S Corporation owners with more than 2% ownership, that's where each HRA aligns. Since S Corporation owners are already able to write off health expenses, the government doesn't allow owners or their family members to participate in the benefit, however, employees are still eligible to participate.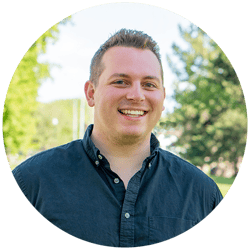 GET IN TOUCH
Interested in signing up with PeopleKeep?
Speak with a PeopleKeep personalized benefits advisor who can help you answer questions, set up your account, and guide you through the beginning stages of your new benefit.