The largest 125 U.S. health insurers collected approximately $713 billion in premiums, with the top 25 accounting for nearly two-thirds of the total.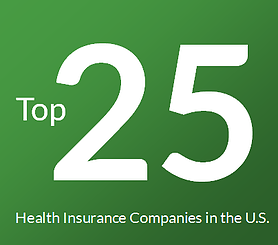 While being a large insurers does not necessarily mean they provide the best health insurance, it is an interesting look at total market share in the health insurance industry.
PeopleKeep is personalized benefits automation software for small businesses. If you're looking for a health insurance policy, we recommend visiting our partner, Stride Health, to find one.
If you're a small business looking for an alternative to expensive group policies, the Small Business HRA enables your employees to choose a policy that best fits their needs.
However, if you do choose to go with group, below are the top 25 health insurance companies, according to the most recent annual data (2012) available by the National Association of Insurance Commissioners (NAIC).
Interested in providing affordable health insurance to your employees? Learn how in The Small Business's Guide to Health Benefits in 2019..

Top 25 U.S. Health Insurance Companies, By Market Share
Unitedhealth Group

Wellpoint Inc. Group

Kaiser Foundation Group

Humana Group

Aetna Group

HCSC Group

Cigna Health Group

Highmark Group

Coventry Corp. Group

HIP Insurance Group

Independence Blue Cross Group

Blue Cross Blue Shield of New Jersey Group

Blue Cross Blue Shield of Michigan Group

California Physicians' Service

Blue Cross Blue Shield of Florida Group

Health Net of California, Inc.

Centene Corp. Group

Carefirst Inc. Group

Wellcare Group

Blue Cross Blue Shield of Massachusetts Group

UHC of California

Lifetime Healthcare Group

Cambia Health Solutions Inc.

Metropolitan Group

Molina Healthcare Inc. Group
Source: NAIC
Do any on this list surprise you?