Owning a small business is an exciting thing. In fact, according to Forbes, around 543,000 new small businesses start every month - that's a lot! If you find that interesting, over 50 percent of the working population works in a small business. However, many small businesses close each month due to several factors - one of which is employee turnover.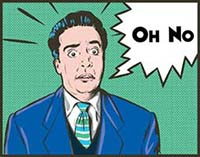 But, what does employee turnover mean for a small business? Is there a way to track it?
If you're a small business owner, the looming danger of turnover costs slowly eating at your business is real and should be addressed. Knowing how turnover affects you and your costs can save your business from this very expensive, unseen risk.
Tip: Download our new our new eBook "10 Strategies to Build an Outstanding Employee Retention Program on a Small Business Budget" for more employee retention strategies.
So You Lost an Employee or Two - What's the Cost?
Losing an employee here and there may seem like it's not a big deal financially, but it is. It is important to track turnover so that you, as a business owner, can know exactly what you're spending. By understanding the current cost of employee turnover you can track the cost over time, and see the positive impact of an employee retention program to your bottom line.
Calculate Your Cost
The cost of losing an employee varies by industry and role at the company. Here are estimates based on a Center for American Progress study you can use to estimate your costs:
Less than $30,000/year: 16% of annual salary

$30,000 - $75,000/year: 20% of annual salary

$75,000+/year: Up to 213% of annual salary (highest for hard-to-replace, high earning CEOs)
Now, calculate costs of employee turnover for a period. In the example below, the company has 24 employees (EEs) and had four employees leave during Q4.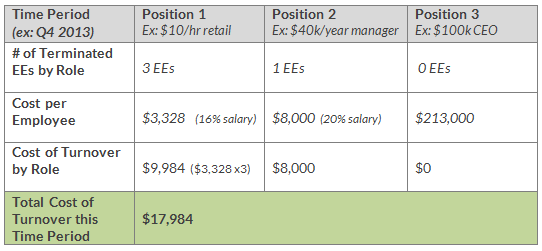 Tip: Wondering how to reduce turnover? Often times, small business health benefits or other employee perks will pay for themselves in terms of reducing the cost of turnover.
Consider These Costs
Now that you can see how much turnover is really costing you, it's important to understand where a lot of that cost is actually coming from. Everything costs money. Although it may seem that hiring a new employee, or letting one go, isn't costing you anything, here are a few things to consider that are factored into the total turnover cost.
Productivity: You need to remember that when you're short-handed, your current employees are putting in overtime. You may end up needing to hire a temp or contractor as well. None of these options are a permanent fix and will eventually have to be replaced by a full-time worker.
Recruitment: This is one that can really cost a lot depending on how you handle it. You can count the time it takes to advertise, review resumes, interview, background checks, drug tests, etc. all as costs. Your time is money, and if it is being spent on constantly looking for new employees, chances are that it isn't being spent on other valuable components of the business.
Onboarding: Even if you are able to hire someone quickly and have significantly cut down the recruitment time, don't forget that training your new hire isn't an overnight task. You'll spend at least a week training them on how things are done at your company. Also included are the prices for training material, potential mistakes made, and bringing in an employee to shadow them.
If you can learn to embrace tracking turnover for your business, you have an opportunity to put the time and money that would have been spent on it into the heart of your business.
Download our employee retention eBook to learn how to keep your most valued employees without breaking your budget.
What does employee turnover mean to a small business? Join the discussion and share your insight and advice in the comments below.
Source: Forbes