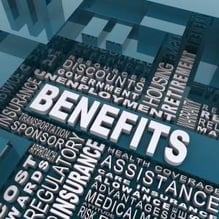 Employers want to offer great benefits to their employees, but which ones do employees love most?
Here is a list of the top five types of benefits employees look for in a company - each can become a valuable tool for employee recruiting and retention for your small business.
1) Health Care
When it comes down to it, the better the health care benefits are, the happier the employees are. In fact, according to a Metlife employee benefits study, 61% of employees who said they are "very satisfied" with their company were satisfied because of the health benefits. Having said that, companies have a choice to offer employees group health insurance or a premium reimbursement for individual health insurance. But what are they?
Group Health Insurance: This is the traditional way employers offer health insurance. The company selects and purchases a group health insurance plan, or plans. Employees can choose if they would like to become part of their employer's group health insurance plan.
Healthcare Reimbursement: A newer way to think about employer health insurance is to provide employees an allowance for health insurance - like a stipend or gift card. With this approach, the company provides its employees with a health insurance allowance or "contribution" to spend on their own individual healthcare - at an annual cost that the company controls. Employees choose and purchase the healthcare plan that works best for them, pay for the health plan with their own money, and are reimbursed for their premium and out-of-pocket medical expenses up to the amount the employer has specified.
Note: With the new Small Business HRA, annual limits for employer contribution are set at $4,950 for single employees and $10,000 for employees with a family.
2) Retirement
Retirement benefits are another top type of employee benefit. They provide employees with something to look forward to after retirement and more importantly, allow them to be sustained and live comfortably.
Though programs such as Social Security exist as a part of an employee's retirement, most employees greatly value additional retirement programs that help employees begin to save for their life after retiring from a job. Many employees often times forget to begin saving for retirement, but when their company offers retirement plans and savings, it makes it possible to begin this important step.
A qualified retirement plan offers several tax benefits and allows employers to deduct annual allowable contributions for their participants. The contributions and earnings on these contributions are tax-deferred until withdrawn. They can even be deferred further through a transfer into a different type of IRA as well.
3) Workplace Flexibility
Taking time off without pay can be financially straining if an unforeseen event should arise. As we wrote about previously, stress over money takes both a mental and physical toll on workers, increasing health related costs and decreasing productivity by a significant amount. As such, employees hold flexible pay and schedules high in the various types of employee benefits. Furthermore, it's not uncommon for an employee to fall ill themselves. When this happens, knowing that a company will allow time off to recover is comforting and reassuring to the employee.
4) Wellness Program
One of the biggest new employee benefit trends this year is building a company culture of health as a way to create and maintain a healthy and productive workforce. As such, many companies put wellness programs in place to keep their employees active, happy, healthy, and productive.
Some of these programs include a company gym, exercise classes, smoking cessation, stress management, and others. Overall, these programs are beneficial to the company simply because when employees are happy and healthy, productivity is generally higher. Wellness programs can save a company money as well. In fact, health promotion programs can yield a three to six dollar return on investment for every dollar spent over a two to five year period.
5) Tuition Reimbursement
Lastly, employees who embody a balance of work experience and education can be extremely successful in a company. Statistically, census.gov surveys show that employees with a college degree make around $45,000 a year, while those without one make $25,000 a year. Additionally, employee development is important to employee retention, and to company culture.
Knowing this, employees greatly value when their employer is willing to pay for furthering their education. Many times, employees are promoted within their company soon after degree completion as well. Moreover, tuition reimbursement is one of the types of employee benefits that has a lasting effect on the employee and the company - producing educated employees that have the knowledge and experience necessary to handle their daily tasks effectively.
What types of employee benefits do you offer to your company and which do your employees love the most? Comment below and join our discussion.