Employee retention can be an elusive thing. How are you supposed to know if your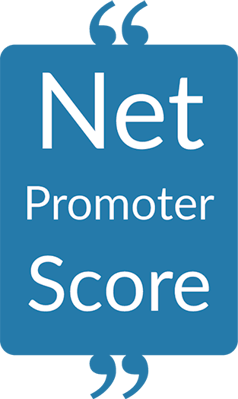 employees are happy at work? One form of measurement is your net promoter score (NPS). Here at Zane Benefits, we've found calculating our NPS on a frequent basis to be incredibly helpful, and we want to share the wealth. Here's how your NPS can help strengthen your employee retention strategy.
What Is a Net Promoter Score?
A net promoter score is a measure of how willing a customer is to recommend your company's product or service to others. Generally, it's used to determine how loyal your customer base is, as well as overall satisfaction with your brand.
The best way to determine your NPS is to conduct very short surveys containing only one or two questions. Customer satisfaction surveys are notoriously unreliable because answers are ambiguous and few people complete them.
Similarly, an employee net promoter score (eNPS) determines how willing your employees are to recommend your company's product or service. It's also used to determine employee engagement levels, which can help you fine-tune your employee retention strategy.
How eNPS Impacts Employee Retention
Here at Zane Benefits, we conduct an eNPS survey every 30 days, and we've found it invaluable. It allows us to see how employees feel about adjustments we are making to our software, about our service, and about how we conduct business. Most importantly, it tells us if our employee retention strategy is working over time.
Our monthly eNPS survey is one question: "How likely is it that you would recommend our company to a friend or colleague?" (on a scale of 0 to 10). There is one follow-up question with a text box for additional feedback: "What changes would our company have to make for you to give it a higher rating?"
How to Calculate Your eNPS
Calculations can be customized to your business based on what you feel is important and measured in terms that you prefer (at Zane, we use a percentage). Responses are usually broken down into three categories:
Detractors: would not recommend your company

Passives: are likely to recommend, but are not enthusiastic

Promoters: would definitely recommend your company
Your eNPS score is determined by subtracting the percentage of total responses that are detractors from that of your promoters. We'll demonstrate by assuming that your company's eNPS survey returned 30 responses:
| | | |
| --- | --- | --- |
| Detractors | 3 | (3/30 = 0.10, or 1%) |
| Passives | 9 | (9/30 = 0.30, or 30%) |
| Promoters | 18 | (18/30 = 0.60, or 60%) |
In this example, the eNPS score is 59 percent (60–1 = 59). It is up to you to determine whether this score is "good," but the real value comes after multiple rounds of surveys. If your eNPS score was 59 percent in July but is 54 percent in November, reflect on changes that were made during that time. If your score is falling, it's possible that employee retention will be the next number on the decline.
Conclusion
Your company's eNPS is a useful tool for measuring the effectiveness of your employee retention strategy. Conducting frequent surveys can reflect employee engagement and show patterns over time. We find it invaluable here at Zane Benefits, and we believe that you will too.
What questions do you have about using your NPS as part of employee retention? Let us know in the comments below.