Hiring employees for your small business is similar to grocery shopping - it's not something you necessarily love to do, but it has to take place. But, what if hiring was an enjoyable experience for you? What if you knew how to hire right the first time and it resulted in low turnover? Just as a trip to the grocery store can be a good experience given the right circumstances, so can hiring if you know how to do it. Here are some things you'll be glad to know for the next time you get to hire.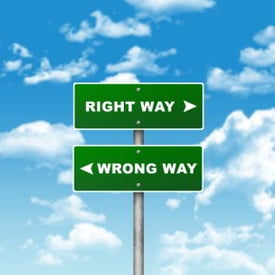 Note:This article is an excerpt from our new eBook "10 Strategies for Building an Outstanding Employee Retention Program on a Small Business Budget." (Click here to download.)
Evaluate the Position You're Hiring For Now, and In the Future
Your small business or startup may be in a growth phase, and as the company grows and changes, so do positions. The questions to ask yourself are, "will your potential employee grow with the company?" "What department can they help build or develop?" Hire future managers - those who are excited about rolling up their sleeves and doing the grind work today. As you are conducting an interview, ask the candidate for a good example of how they have seen an opportunity in the past and dove into the work.
When an employee knows they are helping to build a successful business, they are more likely to actively engage themselves and become immersed in the work.
Hire Attitude and Willingness Over Skills and Experience
Hire candidates that are upbeat and willing. If the candidate is lacking the skills or experience required to do the job, find out if they are willing to learn and will have a great attitude, too.
If you hire candidates for their attitude, as well as their willingness to learn and grow, you'll have employees who will grow and mold with the company. It will help you to hire right the first time. "Will they be motivated by growth and taking on new opportunities?" "Can they add to the business in a unique or needed way?" These are questions that you should ask yourself before making final decisions.
Hire Fast, Fire Fast
Over analyzing each and every candidate is counterproductive. Rather than getting caught up on small things, once you know you are impressed and feel good about a candidate, pull the trigger. If you follow the traditional mantra "hire slow, fire fast" you might be wasting valuable time with the position going unfilled, or lose the candidate to another company that is ready to hire.
In addition, you cannot afford to keep candidates who are not performing or under-performing. At small businesses every employee is important and every employee impacts your brand and your bottom line. If you have given an employee plenty of room to improve and they still have not made progress, it is time to let them go. At that point, you can hire someone who is willing and ready to work hard.
What it Costs You
Hiring is expensive - there is no way around it. To give you an idea of just how expensive it is, every time a business replaces a salaried employee, it costs 6 to 9 months' salary on average. For a manager making $40,000 a year, that's $20,000 to $30,000 in recruiting and training expenses. For a small business, these numbers can have a much greater impact than they would on a larger business. If you learn to hire right the first time, you will not have to hire as often - thus, you'll save a great deal of money.
Now, you're going to have to hire - but rather than looking at it in a negative light, look at it as an opportunity to bring on talent that will help you and your business achieve the success you are hoping and planning for. And as for the grocery store, well, you can find ways to enjoy that just as much as hiring, too.
What are your tips on how to hire right the first time? Leave a comment below.