Compared with offering traditional group health insurance coverage, employers using a defined contribution solution save an average of 57 percent on comparable, comprehensive health benefits. This is according to a new annual report by Zane Benefits. In this article, we will examine the cost efficiency of defined contribution health benefits and highlight key cost and utilization trends from the study.
Note - To download the full study, "The Employer-Funded Individual Health Insurance Annual Report 2016," click here.
Cost Efficiency of Defined Contribution
In this article, defined contribution means a formal health benefits plan used to reimburse employees for individually-purchased health insurance premiums. This model of defined contribution is commonly referred to as employer-funded individual health insurance or premium reimbursement. Read more about how defined contribution works here.
One of the reasons so many smaller companies adopt defined contribution health benefits is the inherent cost-efficiencies.
With defined contribution:
The employer determines the allowance amounts; there are no minimum or maximum contribution amounts. This not only allows employers to control costs, but gives them the ability to adjust allowances according to the needs and expectations of each employee.

The employer may provide different allowances to different classes of employees, so long as differences are based on bona-fide job criteria.

At the end of the plan year, any unused allowance amounts stay with the employer.
Average Defined Contribution Allowances
As defined in the report, an allowance is the real dollar benefit offered to employees, on a monthly or annual basis. Amounts may vary by employee class or family size, as determined by the employer, and represent a fixed, annual maximum liability. If employees do not utilize their full allowance during the plan year, unused funds stay with the employer.
According to Zane Benefits' annual report, the average allowance offered to employees nationwide is $426 per month. As shown in the chart below, allowance averages vary by family status, region and state.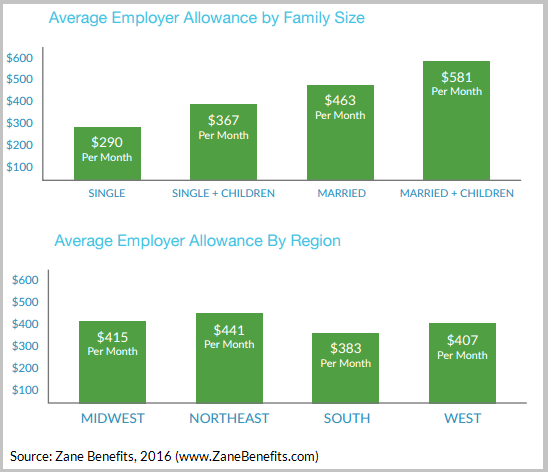 Average Defined Contribution Utilization and Cost
Once established, an employer-provided allowance represents the maximum, annual expense liability for the firm's health benefit. However, the actual expense is based on utilization of the allowances by participants.
For example, if an employee has an allowance of $400 per month and her approved premium is $300 per month, she is reimbursed $300 per month (a 75 percent utilization rate). Conversely, If the same employee has an allowance of $400 per month and her approved premium is $450 per month, she is reimbursed $400 per month (100 percent utilization rate).
In the first example, the $100 unused dollars remain with the company, reducing the overall cost for providing health benefits to this employee. In the second example, the employee uses her entire allowance, and the remaining $50 is her monthly responsibility.
Nationally, the average approved amount ("reimbursement amount") among all states including all family sizes is $380 - an 89 percent utilization rate.
Considering this average, an employer with ten employees has an annual maximum expense of $400 x 10 employees x 12 months = $48,000. Application of the 89 percent utilization rate predicts an actual annual expenditure of $380 x 10 employees x 12 months = $45,600.
Defined Contribution vs. Traditional Group Health Insurance
Lastly, the report finds employers using defined contribution are realizing cost savings of 57 percent, on average, compared to average group health insurance costs.
The comparative value of a defined contribution health benefits solution varies by employer and by region. The following map provides a visual comparison of average savings by state. The data takes into consideration average employer-funded reimbursement amounts by state as well as average group health insurance costs by state (as reported by Kaiser/HRET, 2015).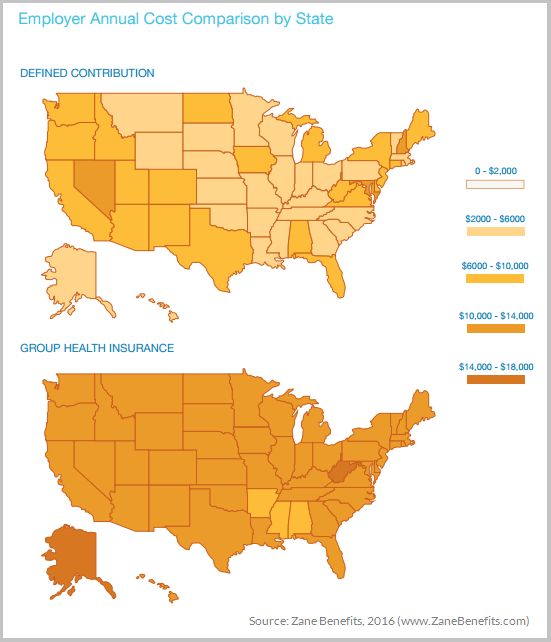 Conclusion
Defined contribution plans offer significant value to employers and facilitate employee access to the quality coverage and perks of the modern individual health insurance market. According to the new report, employers using Zane Benefits' software are realizing average savings of 57 percent, when compared with the costs of offering traditional group health insurance.
This savings drastically improves the ability to afford and, in many cases, enhance their employee benefits offering. Ultimately, this improves the ability of the small business to recruit, retain, and compete for skilled human resources.
Do you have questions about the cost efficiencies of defined contribution? Leave a question below.