Starting in 2014, as part of the Affordable Care Act (ACA), health insurance coverage for individuals and small businesses will become available through new state health insurance marketplaces. Minnesota will offer a state-based exchange. The exchange will open in October 2013 (for coverage starting in January 2014) under the name MNsure (www.mn.gov/hix).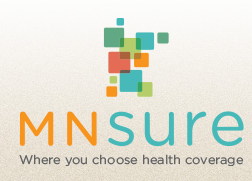 What is the Minnesota Health Insurance Exchange?
According to the Minnesota Health Insurance Exchange website, "MNsure will be the single best, uniquely Minnesotan place to find health insurance. We are currently building a website where you'll have instant, easy access to coverage options."
How was the Minnesota Health Insurance Exchange Formed?
On October 31, 2011, Governor Mark Dayton signed Executive Order 11-30 which charged the Minnesota Health Care Reform Task Force with recommending strategies to improve overall health care delivery in Minnesota, including advising and overseeing an Exchange Advisory Task Force. Minnesota's Exchange is run as a "board" or agency within the Executive Branch. Minnesota received final approval of their state-based exchange by the US Department of Health and Human Services (HHS) on March 20, 2013.

What will MNSure Look Like and How Will it Work?
According to MNsure.com, the website aims to be a simple, easy-to-use marketplace. Residents can find health plans from multiple insurers in a standard format so they can see plans and costs side-by-side. Individuals and small businesses can search for plans with specific features that match their specific health needs. Here is a video from MNSure on how the exchange will work:
Source: http://www.mn.gov/hix