Starting in 2014, health insurance coverage for individuals and small businesses will become available through new state health insurance exchanges. Most importantly, the key tax credits (e.g. the small business healthcare tax credits) and tax subsidies (e.g. individual health insurance tax subsidies) will only be available for coverage purchased via a state health insurance exchange. Below is a summary of progress for health insurance exchange implementation on a state-by-state basis as of December 14, 2012.
States have the following three options for setting up a state health insurance exchange for 2014:
They can elect to build a State-Based Exchange,
They can enter into a State-Federal Partnership Exchange, or
They can default to a Federally-Facilitated Exchange.
2012 State Decisions For Creating Health Insurance Exchanges in 2014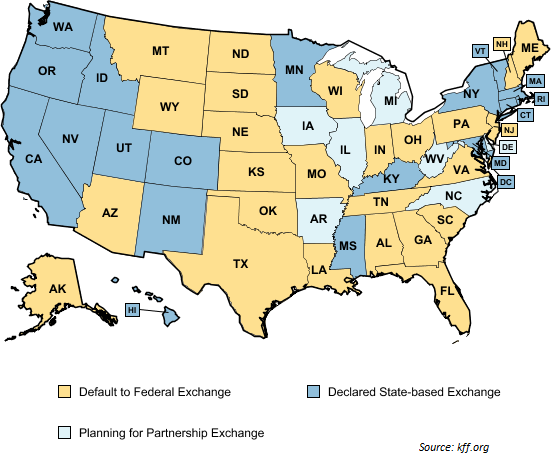 | | |
| --- | --- |
| State | Exchange Decision |
| Alabama | Default to Federal Exchange |
| Alaska | Default to Federal Exchange |
| Arizona | Default to Federal Exchange |
| Arkansas | Planning for Partnership Exchange |
| California | Declared State-based Exchange |
| Colorado | Declared State-based Exchange |
| Connecticut | Declared State-based Exchange |
| Delaware | Planning for Partnership Exchange |
| District of Columbia | Declared State-based Exchange |
| Florida | Default to Federal Exchange |
| Georgia | Default to Federal Exchange |
| Hawaii | Declared State-based Exchange |
| Idaho | Declared State-based Exchange |
| Illinois | Planning for Partnership Exchange |
| Indiana | Default to Federal Exchange |
| Iowa | Planning for Partnership Exchange |
| Kansas | Default to Federal Exchange |
| Kentucky | Declared State-based Exchange |
| Louisiana | Default to Federal Exchange |
| Maine | Default to Federal Exchange |
| Maryland | Declared State-based Exchange |
| Massachusetts | Declared State-based Exchange |
| Michigan | Planning for Partnership Exchange |
| Minnesota | Declared State-based Exchange |
| Mississippi | Declared State-based Exchange |
| Missouri | Default to Federal Exchange |
| Montana | Default to Federal Exchange |
| Nebraska | Default to Federal Exchange |
| Nevada | Declared State-based Exchange |
| New Hampshire | Default to Federal Exchange |
| New Jersey | Default to Federal Exchange |
| New Mexico | Declared State-based Exchange |
| New York | Declared State-based Exchange |
| North Carolina | Planning for Partnership Exchange |
| North Dakota | Default to Federal Exchange |
| Ohio | Default to Federal Exchange |
| Oklahoma | Default to Federal Exchange |
| Oregon | Declared State-based Exchange |
| Pennsylvania | Default to Federal Exchange |
| Rhode Island | Declared State-based Exchange |
| South Carolina | Default to Federal Exchange |
| South Dakota | Default to Federal Exchange |
| Tennessee | Default to Federal Exchange |
| Texas | Default to Federal Exchange |
| Utah | Declared State-based Exchange |
| Vermont | Declared State-based Exchange |
| Virginia | Default to Federal Exchange |
| Washington | Declared State-based Exchange |
| West Virginia | Planning for Partnership Exchange |
| Wisconsin | Default to Federal Exchange |
| Wyoming | Default to Federal Exchange |
Source: Kff.org, Data as of December 14, 2012