Traditional employer-sponsored health insurance has been hit by soaring costs in recent years, making it less affordable for employers and employees. From 1999 to 2012, the annual premium that U.S. health insurance companies charged for employer-sponsored health benefits plans increased approximately 272 percent to approximately $15,000 per family and $5,700 per single. The average employee contribution for family coverage increased 280 percent and the average annual deductible for conventional family coverage increased 448 percent.
Employer-Sponsored Health Benefits 1999–2012

1999

2012

Change

Total annual family premium

$5,791

$15,745

+272%

Total annual single premium

$2,196

$5,615

+256%

Average monthly employee contribution for family

$153

$428

+280%

Annual deductible (single)

$245

$1,097

+448%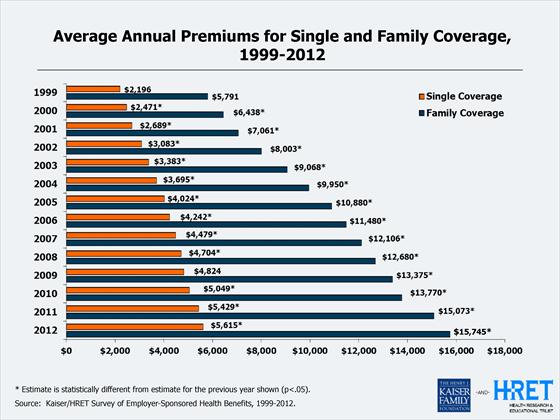 During this period, many employers stopped providing health benefits entirely.
On average, individual employees will be paying more and getting less in terms of higher deductibles, higher co-pays, higher out-of-pocket (OOP) maximums, and lower lifetime maximums. For example, since Microsoft began in 1979, the company has prided itself on giving employees and their dependents unlimited health benefits with no co-pays or deductibles. But in 2005, Microsoft stopped paying full price for brand-name pharmaceuticals. Employees who choose a brand-name versus the generic alternative must now shell out a $40 co-pay. This change, which will saved Microsoft $20 million a year, indicated a new trend for Microsoft: putting employee health benefits on the negotiating table.
Where Does Your Business Fit in?
Average insurance costs are soaring, but averages can be misleading since almost no employee benefit plan fits the "average"—some plans are very good and some are terrible, depending mostly on the plan design and the health and age of the company's workforce. In 2004, when the average employer-sponsored benefit plan premium increased 11.2 percent, the premiums on 24 percent of employer plans increased less than 5 percent. In contrast, the premiums on 28 percent of employer plans increased 15 percent or more—probably due to having a higher-age workforce or more employees with catastrophic illnesses.
When it comes to choosing the best healthcare options from an employer, your client cannot rely on averages—they must first analyze their family's healthcare requirements and then review each benefit option offered by their employer, as well as the quality and trends of their employer group. No two families and no two employers are alike.
What's the Solution?
The best decision for most businesses and their employees will be to drop their company-sponsored health insurance in favor of a defined contribution HRA solution. That's because employees will no longer need employers to purchase quality health insurance, and, starting in 2014, employees earning less than 400% of the FPL (~$92,000 for a family of four) per year who purchase a personal policy will be eligable for large federal subsidies on their premium if their company doesn't offer minimum essential coverage. Not only will this help fix an employer's costs, but it will also help the company avoid enormous administrative hassle that goes along with traditional group health insurance.