Even though small businesses are not required to offer health insurance to their employees under the Affordable Care Act (ACA), many still want to provide affordable health insurance to recruit and retain key employees. This article answers five frequently asked questions on health insurance for small businesses.
1. Does Our Small Business Have to Offer Health Insurance in 2015?
No. Small businesses with fewer than 50 full-time-equivalent (FTE) employees are not required to offer health insurance under the ACA. This is called the "Employer Mandate" or "Employer Shared Responsibility Fees" and it does not apply to small businesses.
2. What is Happening to Health Insurance Rates for Small Businesses?
Most small business owners are facing health insurance rate hikes at renewal time this year. According to the CMS, 11 million employees of small businesses will see ACA-related premium increases - 65% of the estimated 17 million employees covered under a fully-insured small group health plan.
These estimates by CMS do not even include non-ACA factors that have already caused health insurance costs to be on the rise over the last decade, such as changes in product design, provider networks, and the overall rise in the cost of health care.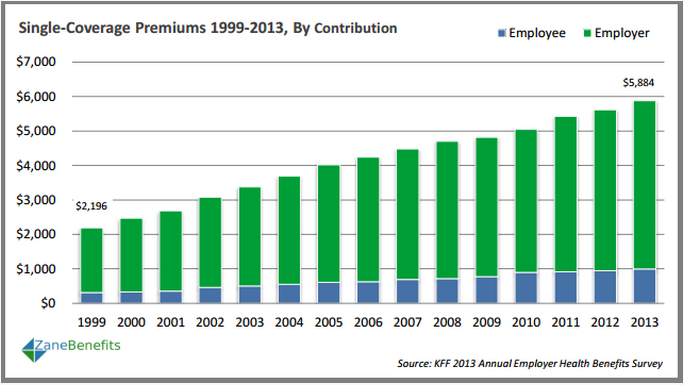 Chart Source: The Inevitable End of Small Business Health Insurance Whitepaper
3. What Is the Small Business Health Options Program?
As part of the ACA's Health Insurance Marketplaces, there is an option for small businesses called the Small Business Health Options Program (SHOP Marketplace). This is a new way for small businesses with fewer than 50 employees (or fewer than 100 in some states) to purchase a traditional group health insurance plan.
The Affordable Care Act (ACA) designed the SHOP Marketplaces to provide small businesses with more choices for their healthcare plan. The rollout of the SHOP Marketplace, however, has faced its share of obstacles, changes, and delays. As such, the SHOP Marketplace still isn't working for small businesses.
4. Is There an Option Outside of the SHOP Marketplace for Small Business Health Insurance?
Yes. One of the main reasons employers are canceling group health insurance and foregoing enrolling in the SHOP Marketplace is that individual health insurance costs up to 60% less. Employees may qualify for premium tax credits, depending upon their income level, household size, and eligibility for other government subsidized programs.
Additionally, individual health insurance offers more choice and control to employees by allowing them to choose a plan that fits their own needs, including coverage level and network. Employees can choose their own plans to work with their budget. These plans can be customized to individual circumstances and age.
5. Can Small Businesses Reimburse Employees for Individual Health Insurance?
Yes. Employers can reimburse employees for their individual health insurance premiums by implementing a premium reimbursement program. To set this up, the employer first needs to decide how much they will contribute toward employees' health insurance expenses. This allowance, or "defined contribution," can be the same for all employees, or it can differ depending upon employee class and/or family status.
Since small businesses with under 50 FTE employees are not subject to the employer mandate, most small employers are seeing the advantages of individual health insurance and allowing employees to select their own health plan from the Individual Health Insurance Marketplace.
In a recent Whitepaper we predict that 60 percent of small businesses will eliminate traditional employer-sponsored health insurance in favor of an employer contribution to individual health plans by 2017.
Do you have any questions about health insurance for small businesses? Leave a comment below.