Free Guide Outlines Flexibility of Defined Contribution Health Plans (HRAs)
Zane Benefits, which provides businesses with comprehensive and flexible defined contribution health benefits and private exchange solutions, today announced it had published a free guide named "Free Reference Guide to HRA Eligible Medical and Insurance Expenses" to provide insurance, accounting and small business professionals with a simple overview of health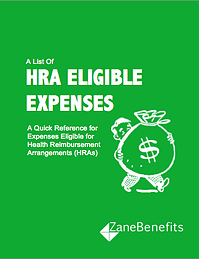 reimbursement arrangements (HRAs) and eligible medical expenses.
According to the Zane Benefits website, HRAs started out as supplements to employer health benefit plans for incidental items not covered by traditional health insurance plans. However, as 2014 approaches, more and more employers are expected to begin offering Health Reimbursement Arrangements (HRAs) as stand-alone defined contribution health benefit programs.
"HRAs offer enormous flexibility", says Rick Lindquist, President of Zane Benefits. "With new technology designed to take advantage of this flexibility, we believe HRAs will become the foundation of every employer's health benefit plan."
According to IRS guidelines, employers can customize an HRA to fit their particular needs. For example, they may decide to use an HRA for dental expenses only, or reimburse employees' out-of-pocket health insurance premiums.
Zane Benefits' HRA technology, ZaneHRA, allows employers to setup an HRA in less than 15 minutes online. The entire process is paperless and the employer has full control over what types of IRS-qualified health care expenses can be reimbursed through the HRA plan. For example, an employer may decide to limit certain type of expenses by expense category, which includes the removal (or inclusion) of expenses such as dental and vision and the placement of a cap on the dollars that may be used for each expense category.
The following is a sampling of HRA-eligible expenses:
| | | |
| --- | --- | --- |
| Acupuncture | Hearing Aids | Medications |
| Ambulance | Home Care | Nursing Services |
| Birth Control | Hospital Services | Operations |
| Chiropractor | Insurance Premiums | Psychologist |
| Eye Exams | Lab Fees | Transplants |
About Zane Benefits, Inc.
Zane Benefits, Inc, a software company, helps insurance brokers, accountants, and employers take advantage of new defined contribution health benefits and private exchanges via its proprietary SaaS online health benefits software. Zane Benefits does not sell insurance. Using Zane's platform, insurance professionals and accountants offer their clients a defined contribution health plan with multiple individual health insurance options via a private health exchange of their choice. Learn more at www.zanebenefits.com.