Learn how establishing a Defined Contribution Health Benefits plan can fix your healthcare costs and reduce administration time.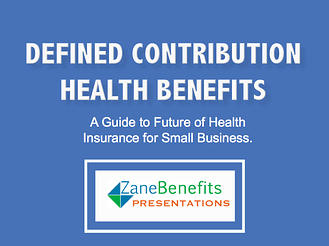 Zane Benefits, which provides businesses with comprehensive and flexible defined contribution health benefits and private exchange solutions, today announced it had published a free guide named "A Guide to the Future of Health Insurance: Defined Contribution Health Benefits" to provide insurance, accounting and small business professionals with a simple introduction to defined contribution solutions.
According to the Zane Benefits website, defined contribution health plans are gaining popularity in the U.S. due to the rising costs of traditional employer-sponsored health insurance. With health care reform taking full effect in 2014, the defined contribution model is at a huge advantage and is steadily becoming a mainstream model for employee benefits.
The guide is available for free download at the zanebenefits.com website and covers the following topics:
• History of health insurance in the United States
• The state of health insurance today
• Defined contribution health benefits vs. traditional group health benefits
• Common problems defined contribution can solve
• 2014 reform and the future of health insurance
About Zane Benefits, Inc.
Zane Benefits, Inc, a software company, helps insurance brokers, accountants, and employers take advantage of new defined contribution health benefits and private exchanges via its proprietary SaaS online health benefits software. Zane Benefits does not sell insurance. Using Zane's platform, insurance professionals and accountants offer their clients a defined contribution health plan with multiple individual health insurance options via a private health exchange of their choice. Learn more at http://www.zanebenefits.com.