With the announcement that Aetna will be largely leaving the Affordable Care Act (ACA) Exchanges, people are left wondering what will happen to their individual health insurance plans. Aetna is one of the largest insurers to exit the Exchanges, which means that competition in the marketplace is being depleted — and for some, that means they are running out of individual health insurance options.
Individual Health Insurance Providers Exiting
Since the first quarter earnings reports were released in April, three major individual health insurance providers have announced that they will pull coverage from some of their markets on the Exchanges: United Healthcare, Humana, and now, Aetna. United Healthcare and Aetna covered nearly 1.5 million people across the country in 2016, but that number will be much smaller in 2017.
What Fewer Marketplace Individual Health Insurance Choices Would Mean for Enrollees
Because of the effect that competition has on price, many are concerned that the exodus of such large individual health insurance providers will increase the cost of healthcare even more than already predicted. The Kaiser Family Foundation (KFF) estimates that the average silver level plan will increase by about 9 percent in 2017.
With less competition in the marketplace (and in some cases, no competition), enrollees and brokers are asking if the 9 percent estimation is no longer relevant. As some areas of the country will have fewer options to choose from, it is possible that the remaining individual health insurance providers will charge even more.
Who Is Affected Most?
The McKinsey Center for U.S. Health System Reform recently performed an analysis for The Upshot to estimate the amount of people that will be affected by these large providers leaving the marketplace. What they found was that 17 percent of eligible Americans will only have one individual health insurance provider to choose from on the Exchange in 2017.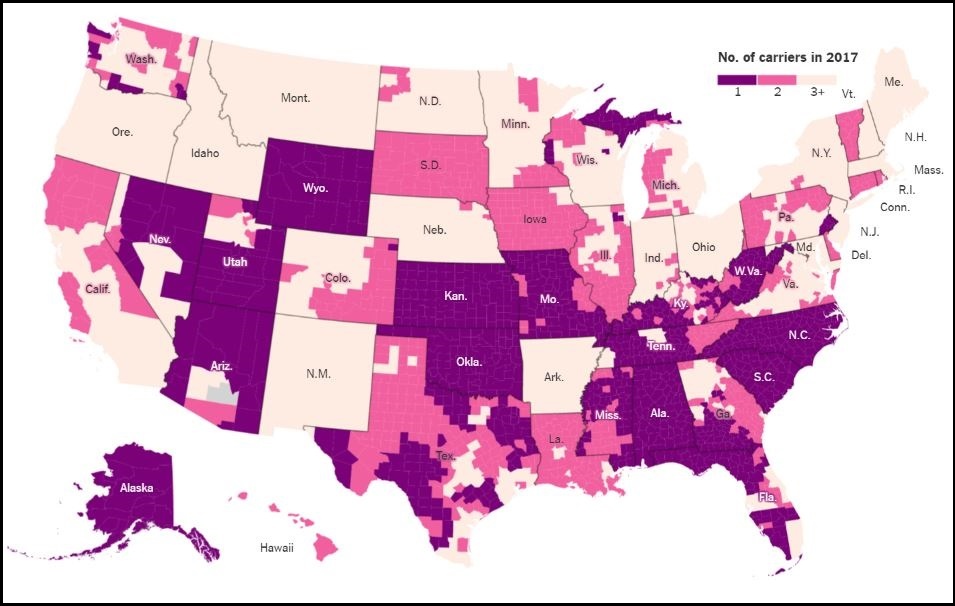 Source: McKinsey Center for U.S. Health System Reform & The New York Times
Prior to Aetna's announcement, the KFF was already estimating that 644 counties will only have access to one health insurer on the Exchanges, 70 percent of which are rural. In addition, at least four entire states will be left with only one individual health insurance option available to them: Alaska, Alabama, South Carolina, and Wyoming. And if Blue Cross Blue Shield follows through their plan to pull out of Pinal County, Arizona, there might literally be no options for its residents.
Before the Exchanges opened at the end of 2013, the ACA faced a similar challenge, but at the last second, Humana came to the rescue by offering individual health insurance to areas without options. Federal officials are optimistic that a similar event will happen at the end of 2016, but only time will tell.
Conclusion
The exodus of multiple large individual health insurance providers from the Exchanges is cause for concern from a competition and price standpoint. If companies continue to experience such devastating losses, this is an unfortunate trend that is unlikely to stop anytime soon.
How is the exit of these three major individual health insurance providers affecting you? Let us know in the comments below!