One of the biggest HR trends this year is building a company culture of health as a way to create and maintain a healthy and productive workforce.
A new survey from Aon Hewitt, the National Business Group on Health, and The Futures Company suggests that employees who perceive their company as having a strong culture of health are happier, less stressed, and more likely to take control of their well-being than employees in other companies.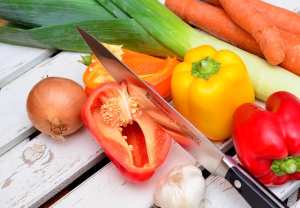 The survey asked 2,700 employees about their perspectives, behaviors and attitudes towards health and wellness. Those surveyed were covered by large employer-sponsored health plans.
The report compared the responses of employees who worked for companies with strong cultures of health (or companies that prioritize and encourage healthy behaviors in the workplace) to employees' responses in organizations that do not.
Here's a look at the survey findings, and practical tips on how to build a strong company culture of health.
Want Healthy Employees? Build a Company Culture of Health
The survey found a positive link between healthy employees and a perceived company culture of health. Here are key findings from the survey:
Employees who work in strong cultures of health were more likely to say they have control over their health than those who work at companies where it is less of a priority (75% versus 63%, respectively).

Employees who working in strong cultures of health were less likely to report that stress has a negative impact on their work (25% versus 49%).

Sixty-six percent (66%) of employees in strong health cultures say they are extremely or very happy with their lives compared to just 32% of those employees in weak health cultures.
How to Build a Strong Culture of Health
The survey asked about various company wellness attitudes, and scored them to define a strong health culture versus a weak health culture. The following attributes indicate a strong culture of health, and are good tips for any company wanting to improve their culture of health.
Encouragement: Employees are actively encouraged to incorporate health activities into their workday

Priority: Employer seriously considers all actions that improve employee health

Leadership: Leaders are health advocates and role models for health

Work Environment: Employer makes it easy for employees to get or stay healthy

Sharing: Employees are encouraged to share health-related efforts and successes with others

Business Decisions: Employees health is an important input in decision-making

Recognition: Health achievements are recognized, rewarded, or celebrated

Healthy Cafeteria and Vending: Employer offers many healthy food choices
Of those surveyed, 24% were scored as having a strong health culture, 25% a weak health culture, and 51% were somewhere in the middle.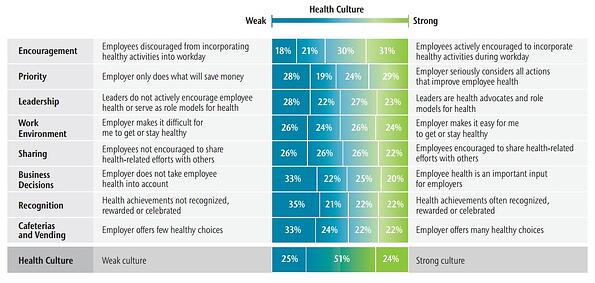 Source: Aon Hewitt (Click to read the full survey findings).
What is your company or clients doing to create a strong company health culture? Does it make a difference toward the health and productivity of employees? Leave a comment below.