More and more, small and medium sized businesses are transitioning away from group health insurance and setting up self-insured medical reimbursement plans to reimburse employees tax-free for individual health insurance. This article examines ERISA rules for these types of premium reimbursement plans.
What is a Tax-Preferred Premium Reimbursement Plan?
With a tax-preferred premium reimbursement plan, the employer sets up a limited self-insured medical reimbursement plan, commonly referred to as a Healthcare Reimbursement Plan (HRP) or Section 105 Medical Reimbursement Plan.
The plan is structured to reimburse employees for eligible health insurance premiums up to a specified monthly healthcare allowance, and basic preventive health services without cost-sharing.
What is ERISA?
Most private sector group health plans are covered by the Employee Retirement Income Security Act (ERISA). Among other things, ERISA provides protections for participants and beneficiaries in employee benefit plans (participant rights), including providing access to plan information. Also, those individuals who manage plans (and other fiduciaries) must meet certain standards of conduct under the fiduciary responsibilities specified in the law.
A self-insured medical reimbursement plan is a type of group health plan. As such, it is required to comply with ERISA.
Key ERISA Rules for Premium Reimbursement Plans
There are two key ERISA rules premium reimbursement plans must follow.
1. Summary Plan Description
Self-insured medical reimbursement plans are employee welfare plans under ERISA. ERISA requires every [welfare] plan to have a Summary Plan Description (SPD) and to furnish copies to each participant.

The SPD is the primary vehicle for informing participants and beneficiaries about their rights and benefits under their employee benefit plans.
Tip: Use a premium reimbursement software provider to generate custom and accurate Summary Plan Descriptions (SPDs) that can easily be updated and distributed with plan changes.
2. ERISA Compliance
The U.S. federal government has specific regulations employers must comply with in order to reimburse employees for individual health insurance premiums without triggering ERISA plan status for the individual health insurance policies.

For example, the employer must not endorse specific individual health insurance policies or pay directly for them.
Tip: Do not get involved in the purchase or selection of employee's individual health insurance policies.
Read more: Why Businesses Should Never Pay Personal Health Insurance Premiums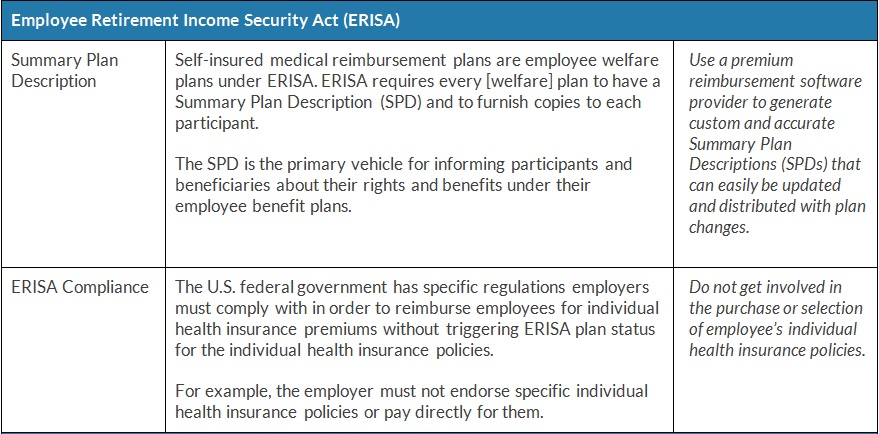 Other Rules Tax-Preferred Premium Reimbursement Plans Must Follow
In addition to ERISA rules, tax-preferred premium reimbursement plans must follow these rules and regulations:
In future articles, we will discuss each of these topics in detail.