Small businesses are a major driving force of the US economy. During the last few years, however, they have experienced a lot of hardship. The economic downturn made it incredibly difficult for small businesses to maintain sales and employment, and stay competitively sustainable. Small business owners' outlook on the economy has gone up and down over the last year. According to a CNNMoney-Manta survey, although the economic recovery is continuing, small business owners are still uncertain about the economy.
The survey polled over 1,500 small business owners across America about their business challenges. According to the results, the biggest challenge small business owners are facing is the economy. Other concerns included sales, government regulation, financing, healthcare and hiring.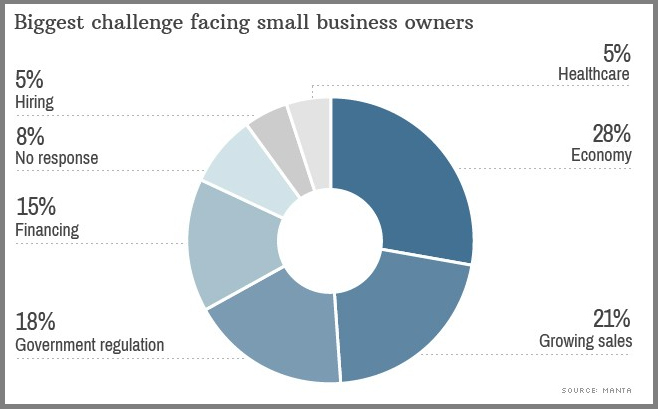 Source: CNN Money
The survey analysis points out that small business owners are hesitant to make hiring decisions in an uncertain economy. It appears that small business owners have mixed feelings on whether to hire in 2014.
According to a January 2014 survey by SurePayroll Small Business Scorecard, small business owners had an optimistic outlook about 2014, and yet there were mixed feelings that this optimism will lead to hiring growth. According to the survey, only half of small businesses planned to hire for new positions in 2014.
A Wells Fargo/Gallup Small Box Index poll conducted in January found small business owners expected their businesses to increase cash flow and hire more employees in 2014.
A poll conducted by The Hartford back in March revealed that the Affordable Care Act (ACA) was a driving factor behind the hesitancy to hire. The poll revealed that small employers thought the ACA would have a negative impact on their business due to the high costs. The plans for many involved reducing hours for employees and slowing or stopping future hiring all together.
According to a poll conducted by the National Federation of Independent Business (NFIB) Small Business Optimism Index back in April, owners increased employment by an average of 0.18 workers per firm in March, an improvement over February's 0.11 reading. The remaining 77 percent of owners made no net change in employment. Forty-nine percent of the owners hired or tried to hire in the last three months and 41 percent reported few or no qualified applicants for open positions. In addition 22 percent of all owners reported job openings they could not fill in the current period.
Hiring New Employees
Although there seem to be mixed reviews from small business owners of whether the economy is stable enough to hire new employees, there are several things to consider when hiring a new employee. It may be time to hire if a small business:
Needs employees on day one for operations

Turns away work because of overbooking

Can't find time to do paperwork or send invoices

Lacks time to pursue new business ideas or clients

Needs someone with specialized skills

Wants to grow the business to eventually sell
It is vital for small businesses to make smart hiring decisions. See this guide to learn more about small business hiring.
Read the full survey analysis at CNN Money