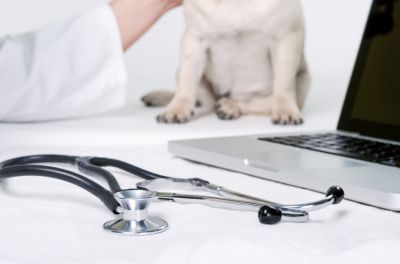 As a veterinary clinic owner, you need time to be on your side. Yet, many veterinarians continue to utilize the old-fashioned way to conduct and administer payroll -- wasting a lot of valuable time every month. The solution? Payroll software. So, to save you and your veterinary clinic time, we've outlined what you should look for in a high-tech payroll solution.
Note: This article is an excerpt from our eBook The Veterinary Clinic's Guide to HRAs
Why You Need Payroll Software
Technology is always changing and you should be too. If you want to save time, it's important that you make sure you choose the right technology that is intuitive and easy to use. The more automated it is, the better.
Truth is, the more time you save administering payroll, the more time you have to spend on your customers' pets. Payroll software cuts out a lot of waste in paper, time, and simplifies the process.
Important Payroll Software Features
As you look for payroll software to utilize in your veterinary practice, you'll quickly discover there are literally hundreds of options. However, not every option will have the correct features to save you the time you need. As such, look for these key features.
Direct deposit capability - Your employees will love not having to go to the bank after work to deposit their checks. And direct deposit actually saves you time and money. Rather than spending the time to print, fold, and distribute your company's payroll, direct deposit does it all for you.
Employee classification and status - When it comes to benefits, you should have a classification system in place (i.e. full-time, part-time, temporary, exempt, non-exempt, etc.). Without classification, it will be difficult to distinguish which employees are receiving certain benefits. Plus, if you're reimbursing your employees for their individual health insurance premiums, you need to know their classification.
Historical reporting - Believe it or not, some payroll software solutions do not allow you to pull payroll history. Instead, some software expects you to keep a hard copy for your records. However, this can take a lot of space and waste paper. Make sure your software will allow you to pull the history of each employee's payroll.
Standard reports - Whether you need a report for your financial standing, or you're simply running a report to see how many hours your staff is putting in for the month, you need to be able to run reports through your software. If you come across payroll software that does not have a reports feature, it's best to find one that does have this valuable option.
Security controls - Your payroll software needs to contain security controls that guarantee both confidentiality and transparency. For example, you should be able to control which users can access data at various pay levels. Your software should also allow you to assign IDs and passwords to prevent any sensitive information from being taken.
Detailed employee notes section - This will serve as a great tool for you to keep track of your employees' progress, write-ups, and time with the company. When a yearly review comes around, you'll want to review the notes section of your payroll software in order to determine if your employee is eligible for a raise.
Also, some veterinary clinics choose to outsource payroll. If you choose to do this, be sure that the company integrates payroll and Human Resource Information Systems (HRIS). This means that they'll manage employee information, reporting, handbooks, etc. - all of which save you time.
Conclusion
If you're still utilizing the old-fashioned paper-and-ink way of administering payroll, you may not know there is a far easier and more efficient way -- payroll software. Payroll software allows you to do everything you were doing before, but saves you many steps with the click of a button. And the time you save on payroll can be spent on your valuable patients -- your customers' animals.
What questions do you have about payroll software? Comment below and let us know.