When the Affordable Care Act, also known as Obamacare, was signed into law in 2010, the public's view of the health reform law was polarized - some loved it, others hated it, and some simply did not know. Today, the public's view remains much the same.
This is according to the Kaiser Family Foundation (KFF) ACA opinion polls, which have tracked the public's view on Obamacare since 2010. This article provides a brief look at the findings from the poll over time and by demographic.
What the Public Thinks of Obamacare Today
The KFF polls asked: "As you may know, a health reform bill was signed into law in 2010. Given what you know about the health reform law, do you have a generally favorable or generally unfavorable opinion of it?"
As of the March 2016 poll:
47 percent said unfavorable
41 percent said favorable
13 percent said don't know
How have the views changed over time? Not significantly. When the ACA was first signed into law in March 2010, the public's view was favorable (46 percent), unfavorable (40 percent), and don't know (14 percent). There's been some flip-flopping over time, but no significant changes.
Here is a look at the public's view over time.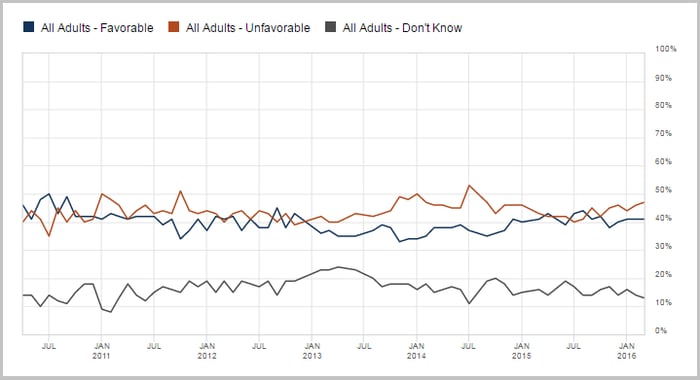 Chart Source - KFF
Democrats Think More Favorably of Obamacare
Not surprising, KFF found views of Obamacare tend to align by political party affiliation with Democrats having the most favorable view.
The March 2016 poll found:
78 percent of Republicans said unfavorable (12 percent favorable)
69 percent of Democrats said favorable (19 percent unfavorable)
Independents were split - 45 percent said unfavorable and 40 percent said favorable
Here's a look at the public's opinion of Obamacare over time, by political affiliation.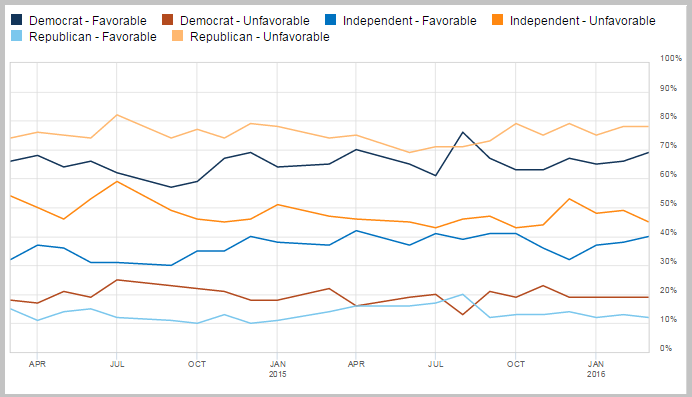 Chart Source - KFF
Minorities Think More Favorably of Obamacare
Here's another interesting trend - minorities tend to have more favorable views of Obamacare. In March 2016:
66 percent of black respondents said favorable
52 percent of Hispanic respondents said favorable
32 percent of white respondents said favorable
To see more opinion polls by demographics, check out KFF's interactive tool here.
Conclusion
When Obamacare was signed into law in 2010 the public remained split on the new policy. With the major provisions of the law now in place, the story is much the same - Obamacare is still a polarizing law. What do you think about the polls? Do you think they accurately reflect what the public thinks of Obamacare? Leave a reply below!