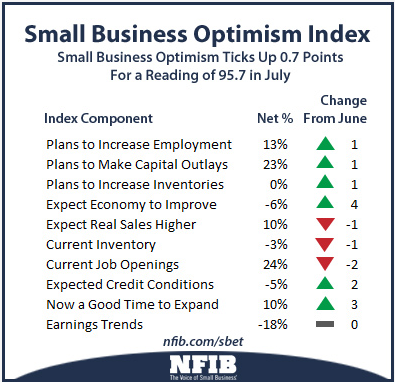 It has been a dynamic year for small business owners. Though their outlook on the economy has been up and down over the past year, a recent survey shows that small business owner's optimism is increasing.
The latest National Federation of Independent Business (NFIB) Small Business Optimism Index rose 0.7 points to 95.7. Small business owners are optimistic about earning trends, they are still nervous about capital spending and inventory investment.
Small Business Owner Optimism Is Up Overall
The July 2014 NFIB Index highlights trends in small business owners' economic outlook. According to NFIB:
Labor Markets
Small business owners increased employment by an average of .01 workers per business in July, which marks the tenth positive month in a row.

Thirteen percent of small business owners reported adding an average of 2.9 workers per business in the last several months.

Over half (53 percent) hired or tried to hire in the past three months.
Capital Spending
The net percent of owners expecting better business conditions in six months rose 4 percentage points to a negative net 6 percent.

Ten percent of small business owners noted the current period as a good time to expand facilities. While this is up three points, the NFIB notes that this is still low for a period of growth.

Almost a quarter (23 percent) of small business owners are planning capital outlays in the next three to six months.
Profits and Wages
Earning trends remained at 18 percent. The NFIB points out that this is one of the best readings since 2007.

A seasonally adjusted net 21 percent of small business owners reported high worker compensation. This has been the second best reading since 2008.

A net, seasonally adjusted 14 percent plan to raise compensation in the coming months.
Inventories and Sales
A net negative three percent of small business owners view their current inventory stock as "too low."

Thirteen percent of small business owners cited weak sales as their top business problem.
Inflation
Seasonally adjusted, the net percent of owners raising selling prices was a net 14 percent.

Twenty three percent of small business owners plan on raising average prices in the next few months.

Three percent of small business owners noted reductions in past prices.