You've started a business and hired your first few employees. Setting up a human resources (HR) program is necessary, but can seem daunting. So what are the small business HR basics you need to have in place?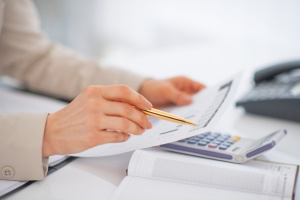 A smart place to start is compliance with HR rules and regulations. For most small businesses there are three basic considerations for your HR program:
Create and maintain employee files
Create and maintain an employee handbook
Post required state and federal notices
Here's a look at what each of these should include.
1. Employee Files
In general, there are three separate types of employee files to create and maintain: an I-9 File, Personnel Files, and Medical Files. It's best to assume all this information is confidential, so keep these files in a secure location. Only people with a compelling business reason should have access to these files.
Form I-9 Employment Eligibility Verification File: The law requires that you have a completed I-9 on file for each of your employees. Keep all I-9s in a single file for easy access and reference.
Personnel Files: Create and maintain a separate personnel file for each of your employees. This file is where you keep employment information, such as:
Resumes and employment applications
Offer letters, employment agreements or contracts
Payroll information
Basic employment data including W-4s
Information about participation in benefit programs
Awards, recognition or disciplinary documents
Performance evaluations
Termination documentation and exit interview information
Medical Files: Create and maintain a separate medical file for each of your employees. This file is where you keep any information related to health or medical issues, such as applications for insurance, notes from a doctor excusing a person from work, medical examination information, and information related to disability.
Note: The employee medical file must be separate from the personnel file. Keep this file secured in a locked cabinet. For small businesses, there is usually no reason for anyone (other than the owner or HR manager) to have access to this file.
2. Employee Handbook
The employee handbook explains your company's policies and procedures, and communicates your expectations to employees. It also helps protect your business in the event of a dispute. The following list covers the basics for most small businesses. It's a good place to start.
General Employment
Purpose of the Handbook and At-Will Employment
Equal Opportunity Policy
New Hire Policy
Policy Against Harassment and Discrimination
Confidential Information
Computer & Social Media Use Policy
Immigration Law Compliance
Work Hours & Employment Categories
Alcohol and Drug Policy
Dress/Attire Policy
Return of Property
Solicitation Policy
Violence in the Workplace
Workplace Safety
Drug Free Workplace Policy
Employee Conduct and Disciplinary Action
Timekeeping and Payroll
Timekeeping Procedures & Paydays
Pay Deductions
Benefits
Sick Leave
Personal Leave
Vacation
Holidays
Bereavement Leave
Jury Duty Leave
Military Leave
Maternity/Paternity Leave
Health Benefits
Worker's Compensation Insurance
Healthcare Continuation
401K
Business Expense Reimbursement
In addition to having an employee handbook, it's important that employees sign off that they have read and understand the company's policies and procedures outlined in the employee handbook.
3. Posting of Required Notices
There are various required state and federal workplace notices to post at your business. There are several online vendors who, for a minimal cost, will provide state and federal required notices to post.
Getting Started
These three basics will help your small business get an HR program up and running. If you'd like some help getting started, there are numerous HR companies who specialize in small business HR, compliance, and payroll. From employee handbook templates to comprehensive employee time off and benefits tracking, they can help streamline these HR tasks - and are the pros on HR compliance considerations.
Looking for more small business HR articles? See: