When the Affordable Care Act (ACA) passed, many people feared that businesses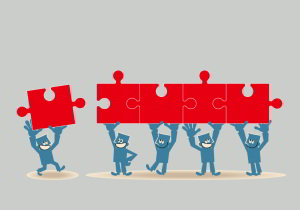 would choose to stop offering health insurance and pay the penalty instead. As a result, many surveys have been conducted to determine the impact of the ACA on small business health insurance, as well as offerings made by large companies. In July 2016, the Employee Benefit Research Institute revealed findings from its latest study.
By the Numbers: What is Happening to Small Business Health Insurance?
When discussing the impact of the ACA on employer-sponsored health insurance, it is important to differentiate between large and small businesses. The law requires large businesses (companies with 50 or more full time equivalent [FTE] employees) to offer health insurance. If they choose not to comply, they will be forced to pay a penalty. The ACA exempts small businesses (fewer than 50 FTE employees) from this requirement.
Since the implementation of the ACA, health insurance offer rates have generally remained steady among large employers. Companies with more than 1,000 employees are offering health insurance at a rate of 99 percent. Companies with 100 - 999 employees are not far behind, ranging from 92.5 to 95.1 percent.
Among small employers, however, the numbers tell a different story. In each size category studied, small business health insurance offerings have been steadily declining since the start of the recession:
| | | |
| --- | --- | --- |
| # of employees | 2008 percentage | 2015 percentage |
| Fewer than 10 | 35.6 | 22.7 |
| 10 - 24 | 66.1 | 48.9 |
| 25 - 99 | 81.3 | 73.5 |
Why is Small Business Health Insurance Declining?
There are many possible reasons for the decline in small business health insurance, including the rising cost of healthcare (and the fear that costs will continue to increase). Small businesses tend to feel a larger impact from rising costs because there are less people to share in the increase. Additional reasons could include the recession (2007-2009), unemployment, and the economic uncertainty that lingers post-recession.
Another reason could simply be that the ACA provides other options for employees. Small businesses may not feel the same pressure to provide health insurance because employees can purchase a health plan on the Exchanges that best fits their families' needs.
Small Business Health Insurance Alternatives
If you own a small business and would like to offer health insurance, but share in the fear of rising costs, there are alternatives available to you. Health reimbursement plans (HRPs) and consumer directed health plans (CDHPs) are excellent ways to provide a meaningful benefit to your employees in a controlled way. You simply designate how much money per employee per month you feel comfortable paying and your workers choose their own health plan.
Conclusion
While the percentage of small business health insurance offerings may be declining, large companies are holding steady. It is important to note that there are many alternative options for small businesses that would like to offer a helpful benefit to their employees without carrying group health plans.
Has your small business health insurance offer declined since the recession? How are you facilitating the changes? Let us know in the comments below!