As an owner of a small business, you want to provide your employees a work environment that is pleasant, productive, and sustainable. The ancillary benefits you offer are appreciated and surely do not go unnoticed. Yes, your employees love the free soda and Hawaiian Shirt Day, but what they truly need is the benefit of long-term financial security. Your small business can help by offering a retirement savings plan.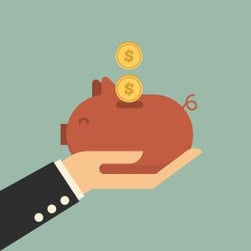 .
Is America Facing a Retirement Crisis?
Did you know the median retirement account balance in a typical American working-age household dropped to $2,500 in 2014, down from $3,000 in the previous year? The National Institute on Retirement Security reports that 40 million households have no retirement savings. And it gets worse the older you are. For those closest to retirement the situation is even more dire. The median retirement account balances for pre-retirees was $14,500, with 62 percent of Americans aged 55 to 64 having just saved less than one year of their annual income.
The bottom line is, employees need to save money for retirement but few do. Furthering the problem, employees are finding themselves with lack of access to workplace retirement savings plans, particularly lower income workers. Over 43 million people worked for an employer that didn't sponsor a plan in 2013 - including 34 million full-time workers. Additionally, those with access are simply not saving enough. These twin challenges, if left unaddressed, may have grave consequences for Americans, their families, and the economy at large.
Part of the problem is that we no longer live in a guaranteed "pension plan provided" world. Our means of retirement has shifted to a 401(k) plan, which requires accessibility as well as education and action from its participants. This new way of saving requires American workers to make more financial decisions and assume more risk regarding where their money goes and how much of it will be saved. Employees want to save, but the opportunity is not always there for them to do so.
How Does A Small Business Benefit From a 401(k) Matching Plan?
If you are a business that values quality employees and intends to retain talented people for years to come, you may want to implement a 401(k) match program, if you haven't already. Most employees, particularly younger generations, are eager to save for retirement. Frequently, if a talented candidate has multiple offers from different companies, a 401(k) contribution match could become a factor in choosing their employer. So how does this type of plan benefit you as an employer?
A company sponsored plan is an effective way for small business owners to save for their own retirements. Owners can contribute to individual retirement accounts or to a Roth IRA, but the contribution limit for these plans is just $5,500 a year ($6,500 for anyone 50 and older). That is one third the maximum allowed for a 401(k) plan
There is a wider range of investment options available for the plan sponsor to offer, compared to other retirement plans.

Employers may obtain a tax credit due to the Economic Growth and Tax Relief and Reconciliation Act (EGTRRA) to offset the startup cost and the cost of educating employees about a new plan.

Because overall employees' taxable income is reduced with pre-tax 401(k) contributions, employer payroll taxes may be reduced.
How Does An Employee Benefit From a 401(k) Matching Plan?
Employees are immediately 100 percent vested with their own tax-deferred contributions.

Employees that retire any time during the calendar year in which they turn 55 or older are not subject to the 10 percent penalty.

Employee withdrawals before age 59 1/2 may be subject to 10 percent penalty.

Employee contributions to a 401(k) are not subject to federal income taxes until a distribution from the plan is made. Any investment gains and earnings are tax-deferred until they are distributed.
Conclusion
You don't just want to be a middle of the road employer. You want to be a company that is sought after, reputable, and well established. Small businesses stand to gain from providing their employees with a 401(k) plan. Providing retirement benefits has become an excellent way for small businesses to compete for talented workers and keep them happy, appreciated and contributing to the growth of your company.
What are your thoughts on providing retirement benefits for your employees? Please share with us!