This article answers the top five accounting questions on pure defined contribution health benefits including how to track liability, minimize exposure, and administer the health benefits.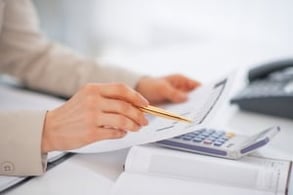 Overview of Pure Defined Contribution Health Benefits in 2014
As background to these accounting FAQs, it's important to understand how pure defined contribution health benefits work.
With this type of health benefits, companies give employees a set monthly amount (a "defined contribution") to spend on their own health insurance policy. Employees can purchase a policy in a state health insurance exchange, or through the private market via a broker, online, etc.

Then, using a limited purpose Section 105 medical reimbursement plan (such as a Healthcare Reimbursement Plan or HRP), the company reimburses employees for their qualified expenses.
To stay compliant with various regulations, the plan must be formally administered to meet certain requirements of the IRS, HIPAA, ERISA, and ACA:
The funds must reimburse qualified health insurance premium expenses,

Expenses must be substantiated (usually through a payment receipt or bill), and

Any amount received by an employee in excess of actual expenses must be returned to the employer.
5 Accounting FAQs on Pure Defined Contribution Health Benefits
Here are the five most common FAQs from accountants, CPAs, and bookkeepers on setting up, using, and tracking 'pure' defined contribution health benefits. (Note: These FAQs assume a company is using Section 105 as the foundation of their defined contribution offerings).
FAQ #1: Where do companies keep the accumulated balances? Do they send the money to a third party or set up a separate account to keep track of the liability?
A. Defined contribution health benefits is a notional arrangement; an agreement to reimburse employees for their qualified expenses under guidelines in the Plan Document. As such, no funds are expensed until reimbursements are paid. Once an employee's health insurance premium has been approved, reimbursements are paid out via payroll. Most companies use defined contribution software to track the balances and reimbursements due in real-time.
FAQ #2: How should my accountant keep track of the liabilities?
A. For financial reporting purposes companies generally accrue a liability on their balance sheets for the portion of unused contributions they believe will ultimately be used. Currently, no specific accounting standards exist for recording or specifically disclosing these types of liabilities. The most conservative treatment is to accrue 100% of the unused contributions on the balance sheet.
FAQ #3: How can our company minimize our exposure?
A. Companies should look for a defined contribution software provider that offers reporting and real-time monitoring of liabilities, reimbursements, and utilization. These types of tools make tracking and minimizing exposure straight-forward. Companies can also change benefits at any time, or cancel the entire benefit at any time. Further, any unused benefits stay with the company at the end of the plan year, or when an employee leaves the company.
FAQ #4: What part of the IRC allows a company to reimburse health insurance premiums?
A. IRC Section 105 allows employers to reimburse health insurance premiums (http://www.law.cornell.edu/uscode/text/26/105).
FAQ #5: Can a company self-administer 'pure' defined contribution health benefits?
The short answer is yes, but it is virtually impossible for a company to stay in compliance without proper benefits administration software. A primary reason for using compliant defined contribution administration software is that many employers will otherwise overlook important compliance obligations that put them at risk financially.
Failure to comply with the following requirements can cost an employer thousands of dollars per day in fines:
HIPAA Privacy
IRS Rules
ERISA Rules
Medicare Reporting
Legal Plan Documents
COBRA (if applicable)
New Affordable Care Act (ACA) requirements
What are your accounting questions on defined contribution health benefits? Leave a comment below.