With major provisions of the Affordable Care Act (aka ACA or 'ObamaCare') going into effect in nine days, what is the public's opinion of ObamaCare, and has it changed over the last few months? What is the perceived person impact of ObamaCare? What should Congress do next with the law?
The monthly Kaiser Health Tracking Poll provides insights on the public's feelings toward ObamaCare - a pulse.
Key Findings
The December poll was conducted December 10-15, 2013. Here is a summary of the key trends:
The poll found a 13% point rebound in support for the Affordable Care Act (ACA) among Democrats this month, but no overall change in support or opposition to the ACA since the November poll found a negative shift in views following the problem-plagued rollout of the law.

In December, 34% have a favorable view of the ACA and 48% have an unfavorable view.

The share of Americans that expect to see no personal impact from the law reached a new high in their polling in December and now stands at nearly half the public.

The public is more likely to attribute negative consequences to the law (believing it has increased the federal deficit and caused many people to lose their insurance coverage) than to say it has had positive effects (such as lowering prescription costs for seniors, eliminating cost-sharing for preventive services, and providing rebates to consumers whose health plans spent too much on administration).

Americans are divided on what they would like Congress to do next with the law, with about four in ten wanting the law to be expanded or kept as is and a similar share wanting to see it repealed (either being replaced with a Republican alternative or repealed and not replaced).
Source: KFF December Tracking Poll.
Chart Highlights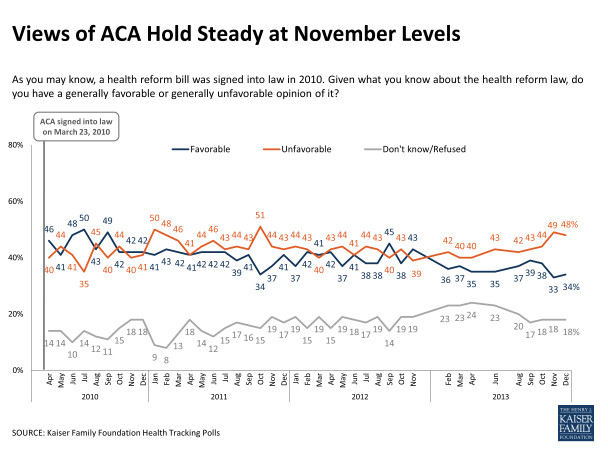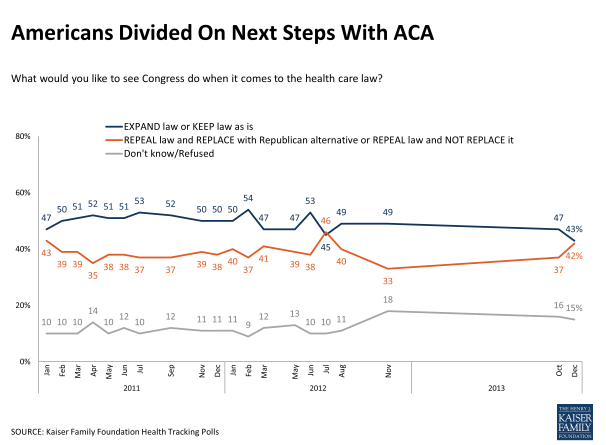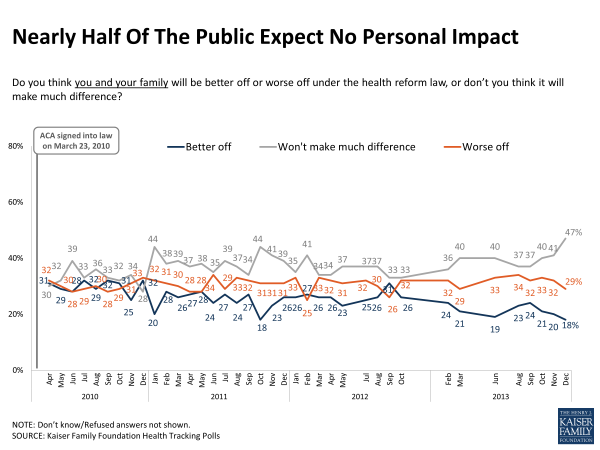 Source: KFF December Tracking Poll.