With the 2016 Obamacare open enrollment period right around the corner, all eyes are on which plans will be offered in the Health Insurance Marketplaces, and whether costs are going up or down. So far, 11 states have announced their 2016 proposed rates and the premium increases are surprisingly modest.

Premium Increases Modest, Vary by City
The Kaiser Family Foundation (KFF) analyzed the cost of Health Insurance Marketplace plans in major cities for 11 states where data were available, including the District of Columbia. According to KFF, the preliminary 2016 premiums for benchmark silver plans increased an average of 4.4 percent from 2015.
Of course, what you and your employees pay for health insurance in 2016 will depend on a number of factors including where you live.
Of the 11 cities analyzed, Portland and Albuquerque have the largest increases at 16.2 percent and 11 percent, respectively.
On the flip side, there are some areas in the country where premiums are decreasing such as Seattle (10 percent decrease) and Detroit (1.8 percent decrease).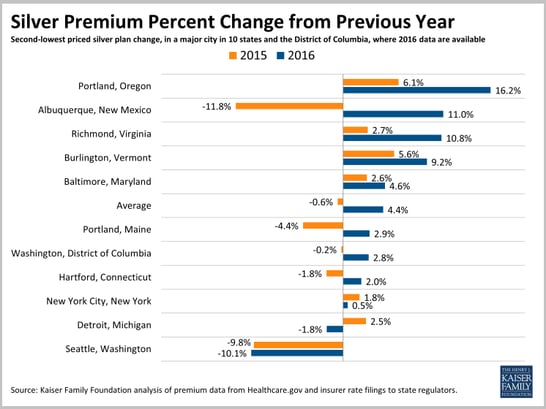 What do these premium changes mean in terms of what you will pay for health insurance?
If you live in Hartford the second-lowest cost silver plan (before premium tax credits) averages $328/month, an increase of $6/month from 2015. If you live in Seattle the average cost is $228/month, a decrease of $26/month from 2015.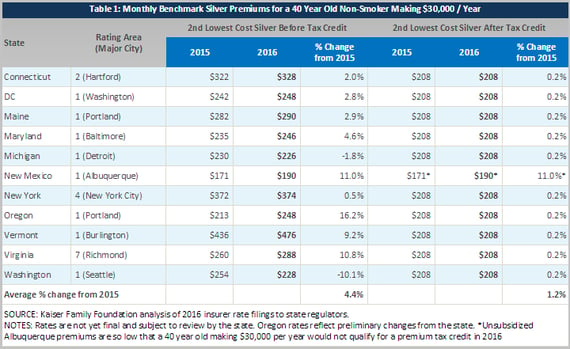 Premium Tax Credits
When discussing Marketplace premiums, it is important to remember that four out of five people are eligible for premium tax credits. This is important because the tax credits act as a cap on what you will pay for health insurance. As you can see from the chart above, if you are eligible for premium tax credits, the premium changes do not have an impact on what you would pay for health insurance.
Related: ObamaCare Blessed by Supreme Court - What to Expect Now
Conclusion
What you pay for health insurance depends on a few factors including where you live and if you are eligible for premium tax credits. The good news is, however, as we enter the third open enrollment period for the Obamacare Marketplaces, the overall premium changes appear to be modest.
Question? Leave a comment below. We'll help answer it.