The Affordable Care Act (aka ACA or "ObamaCare") will cost large employers between $4,800 and $5,900 more per employee, and add hundreds of millions to their overhead. This is according to a new survey by the American Health Policy Institute.
Large Employers Estimate ObamaCare Will Cost Them $5,000 More Per Employee
The American Health Policy Institute conducted a confidential survey of 100 large employers, asking what costs they expect to incur from ObamaCare over the next decade. The survey found:
The cost of the ACA to large U.S. employers (10,000 or more employees) is estimated to be between $4,800 to $5,900 per employee.

These large employers will see overall ACA-related cost hikes of between $163 million and $200 million per employer, or an increase of 4.3% in 2016 and 8.4% in 2023 over and above what they would otherwise be spending.

The total cost of the ACA to all large U.S. employers over the next ten years is estimated to be from $151 billion to $186 billion.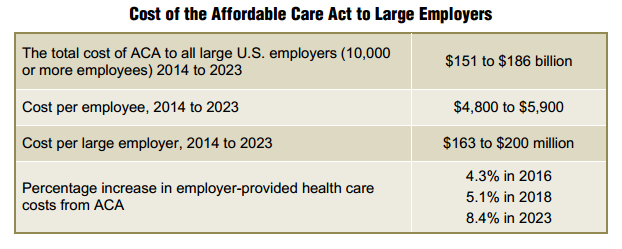 The survey focused in on the impact of ObamaCare, separate from the larger trends taking place in health care. The survey does not, for example, look at the aging of the workforce or the rate of health care inflation. Nor does the survey take into account possible off-setting savings generated by ObamaCare.
Why is ObamaCare Increasing the Costs of Employer Provided Health Care?
According to the report, ObamaCare is directly and indirectly increasing the cost of employer provided health care through a number of its provisions, such as:
Patient Centered Outcomes Research Institute fee

Temporary Reinsurance Fee

General ACA implementation and administrative costs

Excise tax on high-cost plans

Mandates on coverage such as the mandate to cover adult-children up to age 26 as dependents, and mandate to cover 100% of preventive care services

New supply-chain taxes passed onto employers (e.g., medical device tax)

Increased take-up rates of employer offered coverage resulting from the individual mandate

Increased cost-shifting from the expanded Medicaid coverage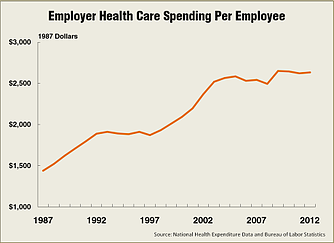 But It's Not Just ObamaCare...
Health care costs have already been increasing for large businesses (and businesses of all sizes).
Businesses spend $578.6 billion each year to provide health coverage for 170.9 million employees, retirees, and dependents.
According to the report:
After adjusting for inflation, the cost of employer provided health care per employee has risen 83% since 1987, despite a variety of attempts by employers to control health care costs.

Over the past 25 years, while inflation generally has risen 99%, medical inflation has risen 227%.

The share of health care costs paid by employees over the past six decades has increased significantly - rising 196% for single coverage and 214% for family coverage.
This survey reflects that ObamaCare is adding to the cost burden of employer provided health care. Some say that ObamaCare is killing employer provided health care. We think it's already broken.
How to Avoid the ObamaCare Cost Increases
One way for employers to avoid the cost increases to employer provided health care is to get out of the business of health insurance. Because of these cost increases (and projected cost increases), many employers are already canceling health coverage - but it doesn't mean they are canceling health benefits all together.
Instead, they are re-thinking their contribution strategy.
Rather than offering traditional group health insurance (a "defined benefit"), they are using a defined contribution approach to offer a fixed contribution (aka a health insurance allowance) that employees choose how to spend.
What do you think of the recent survey on ObamaCare costs and employer provided health coverage? Join the discussion with a comment below.
Survey & Charts Source: AmericanHealthPolicy.org