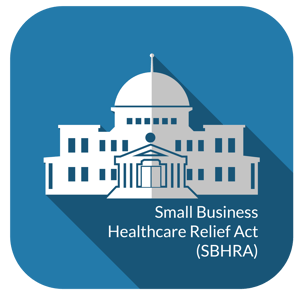 It has been an exciting time here at Zane Benefits. Over the past year, we have
followed and backed pending legislation, referred to as The Small Business Healthcare Relief Act (SBHRA), that will greatly improve small business access to competitive health benefits by restoring the use of stand-alone Health Reimbursement Arrangements (HRA). The bill was recently reintroduced with several improvements under new bill numbers [H.R. 5447 / S.3060]. After receiving unanimous committee support, the SBHRA easily passed vote by the House of Representatives - a major milestone.
The SBHRA would provide an exception from certain group health plan requirements to allow small businesses to use pre-tax dollars to assist employees in the purchase of policies in the individual health insurance market, and for other out-of-pocket medical expenses. Stand-alone Health Reimbursement Arrangements would once again be available to small businesses!
SBHRA Explained
Under new bill numbers, the recent updates to the legislation presents a polished version of the Qualified Small Employer Health Reimbursement Arrangement (QSEHRA). Updates to the QSEHRA include:
A limit on the amount an employer can contribute to an employee through the QSEHRA ($5,130 individual / $10,260 family). The contribution limits are indexed for future inflation.

A requirement to be covered by minimum essential coverage, otherwise the reimbursement may be included in gross income.

A coordination with the premium tax-credit for subsidy eligible employees.

A requirement for the employer to provide written 90 day notice informing employees of contribution amounts, exchange information for subsidy eligible employees, and a statement that the arrangement may be included in gross income if the employee is not covered under minimum essential coverage. A penalty may be assessed for non-compliance with the notice requirements.
Bipartisan Support for Small Business Benefits
The SBHRA has received tremendous support from both Democrats and Republicans. Sponsors of the legislation, including Senators Chuck Grassley (R-IA) and Heidi Heitkamp (D-ND) and Representatives Charles Boustany (R-LA) and Mike Thompson (D-CA) - agree that the bill is a common-sense solution to ensure that small businesses are not penalized for trying to do the right thing - offering health benefits to their employees that they can afford.
Conclusion
The legislation now goes to the Senate. While we are closer, our work is not done and timing is critical. Now is the time for small business supporters to contact their Members of Congress about this issue. Whether you are a health insurance professional, small businesses owner, employee, or a general supporter, tell your legislator that this legislation is important to the success of small businesses nationwide.
What benefit changes would your business make with the passage of the SBHRA? Let us know in the comments below!