Enrollment in the new individual health insurance Marketplaces has been an early barometer of the success of the Affordable Care Act (ACA). But, the enrollment numbers alone do not tell the full story. What percentage of the 8 million enrollees actually paid their premium and effectuated their coverage? How many people have enrolled in individual health coverage outside of the public Marketplaces? And, how many people have left the market?
A new report by Kaiser Family Foundation (KFF) attempts to answer these questions about the individual health insurance market. Based on preliminary data, the report finds the market grew nearly 30% from December 2013 to March 2014.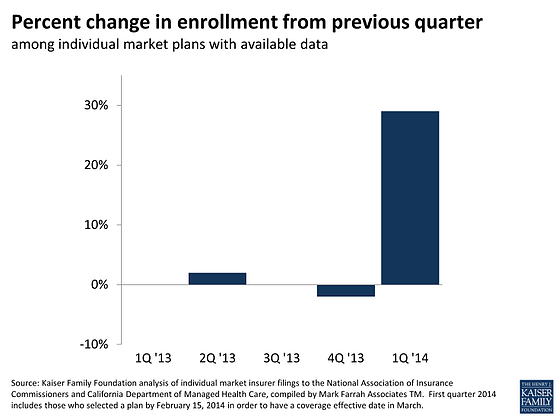 The latest figures released by the Department of Health and Human Services identify that about 8 million people selected a plan on the Marketplace at the end of the open enrollment period (which was extended through mid-April in most states).
Insurers recently submitted filings with insurance regulators that provide totals of the number of people enrolled in individual market products. KFF notes that because these filings only represent the number of people whose coverage began by March 31, they do not capture new enrollees who signed up toward the end of open enrollment with coverage beginning in April or May.
However, the filings provide an initial indications of how the ACA has affected enrollment in the individual market overall, including people purchasing their own coverage both on and off of the exchange Marketplaces.
As the chart above shows, the number of people with individual coverage in effect at the end of March 2014 was nearly 30% higher than at the end of December 2013.
According to KFF, "this data suggests that the individual insurance market grew substantially during the first part of 2014, although many questions remain and we will need to wait for the next round of filings to get a more complete picture of overall enrollment, including capturing the late March enrollment surge."
Source: Kaiser Family Foundation