Are fourth quarter fears about the private individual health insurance market overblown? One analysis by William Blair Company on behalf of eHealth says yes. Here's a look at their analysis of individual health insurance market trends in 2013 and projections for the first quarter of 2014.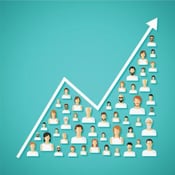 Fourth Quarter 2013 Individual Health Insurance Trends
According to William Blair's analysis, churn was not a major issue in the fourth quarter of 2013. Many policies renewed early and even the policies that were canceled in December will likely not show up until the first quarter of 2014.
Additionally, the number of lives was up significantly at several firms because of higher shopping volumes and higher conversion rates, pointing to strong member growth. Conversion rates, which were historically closer to 60%, moved into the 70% range due to less restrictive underwriting and the inability to exclude applicants.
According to the analysis, there was some noise during the quarter with non-core customers, such as those who qualify for Medicaid or subsidies, who were not appropriate for the current product offerings. However, these shoppers typically do not make it to the application process.
Federal Exchange Delays Continue
The analysis discussed the delays with the federal health insurance exchange, and challenges carriers are facing. According to the report:
Back end changes with the federal exchange will continue to cause challenges for brokers and carriers. The system is switching to a new set of electronic data interchange standards, which means that all of the Web brokers will have to reconfigure their code once again.

The new goal is for the system to be fully up and running by July 31, which means that the ability to broker subsidized individuals in the first quarter will remain limited.

A consortium has formed to work on better ways to work with the federal exchange. This includes a number of online brokers, health insurers, and other participants.
First Quarter 2014 Trends & Projections
The analysis made the following projections about the individual health insurance market going into 2014:
Shopping activity remained elevated in January, but applications and conversions slowed materially versus December (but still well above January 2013).

Many customers are waiting until March to sign up to meet the April 1 deadline, which will allow them to still be in compliance with the individual mandate. This will likely cause a lag in sign ups until the deadline approaches. Many people in the individual market are shopping but are not yet pulling the trigger.

There was a surge of purchasing in the last two weeks of December, suggesting churn could pick up. According to the report, if these were people with existing insurance plans, the churn would not likely show up until late January or early February.
Click here to read the full analysis.