Ask a trusted colleague about the which type of health insurance costs less - group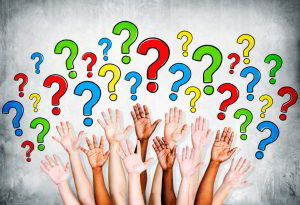 or individual coverage - and I bet you will hear, hands down, a group policy costs less. After all, your small group helps spread the risk, right? The answer might surprise you.
In reality, individual health insurance costs, on average, about 40 percent less than comparable small group health insurance coverage.
Of course, how much you and your employees will save by purchasing individual health insurance policies (not group) will depend on your location and employee census.
To help get you started, let's walk through the cost differences of individual and group health insurance and then take a look at how this is a win for small business benefits.
Note - This blog post is based off our new infographic, 7 Truths About The Cost of Health Insurance In America. Check out the full infographic here.
Health Insurance Costs - Group vs. Individual
For single coverage, an individual policy costs $3,587 a year on average - a 43 percent savings compared to average group coverage at $6,251 a year. Factor in the tax subsidies available for individual coverage and the savings increase up to 60 percent annually.
For family coverage, an individual policy costs $10,739 a year on average - a 39 percent savings compared to average group coverage at $17,545 a year. If eligible for tax subsidies, savings for individual family coverage average 68 percent.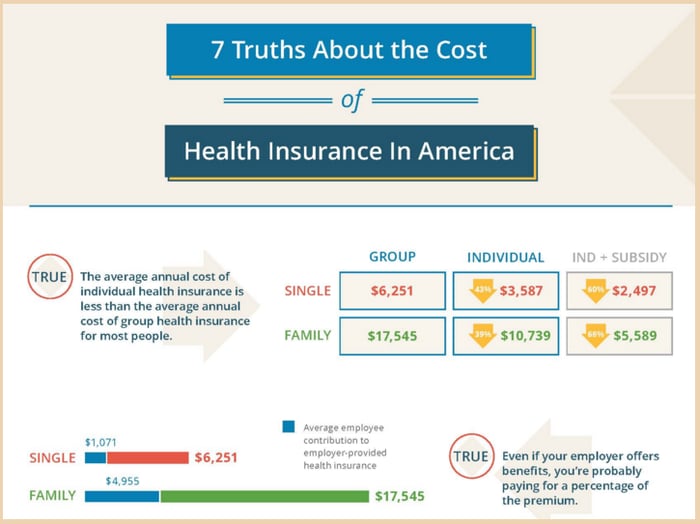 View the Full Infographic: 7 Truths About The Cost of Health Insurance In America
Why Individual Health Insurance Costs Less
For the majority of small groups, individual health insurance is more affordable because of the size of the risk pool. With individual health insurance, insurance companies spread the risk over a much larger group - hundreds or thousands of other individual consumers enrolled in the plan. With group insurance, the risk is spread amongst your 10, 20, or 100 employees enrolled in the plan.
Additional cost savings come into play for employees who are eligible for the Marketplace tax subsidies. In 2014, 87 percent of those who selected a health plan through Healthcare.gov received a subsidy and paid an average only $82/month.
Adding an Employer Contribution
When you look at the data it's pretty clear individual insurance has its financial advantages, but what about an employer contribution? Can businesses offer a contribution, just as you would with a group policy?
Yes. Businesses can offer an employer contribution.
One compliant option is to set up a tax-advantaged Health Reimbursement Plan (HRP). An HRP is like a business expense account for health insurance; a way to give employees a monthly healthcare allowance. Using their employer-funded HRP, employees can be reimbursed tax-free for their qualified health insurance policy expenses.
Another compliant option is to increase employees' gross salaries or wages - a taxable stipend or bonus to help with the cost of health insurance.
Conclusion
When it comes to meeting the benefits expectations of employees, health benefits are an important component of the overall compensation package. And yet, the cost of group-based health insurance is the number one operating challenge of large and small employers, alike.
To achieve cost savings and offer benefits employees appreciate, consider using individual health insurance as the foundation of health benefits. On average, individual health insurance costs about 40 percent less than group health insurance coverage and employers may continue to (or start to) contribute by setting up a health insurance reimbursement program.
Do you have questions about the cost of individual health insurance or about small business benefits strategies? We'd love to help. Leave a comment or question below.