There's no doubt about it: our healthcare system is complicated. Just when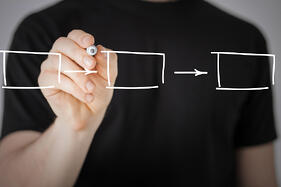 you think you've mastered the hurdles of choosing a plan that works for your small business, your benefits advisor tells you about another acronym you never even knew existed. We're here to help you sort out your options and answer your questions. Let's start with a big one: HRA, HRP, HSA, or FSA? And how are they different?
HRA vs. HRP vs. HSA vs. FSA: What's the difference?
While this chart is meant to provide an overview of each plan, it is by no means exhaustive. For further detail, ask us questions in the comments section.
HRA
(Health Reimbursement Arrangement)
HRP
(Healthcare Reimbursement Plan)
HSA
(Health Savings Account)
FSA
(Flexible Spending Account)
Type of Account
Defined Contribution
Defined Contribution
Financial
Financial
Who Owns the Account
Employer
Employer
Individual
Individual
Who May Contribute
Employer
Employer
Employer or Individual
Employer or Individual
Cost for Employer
Amount that employees use.
Amount that employees use.
100% paid, regardless of use.
100% paid, regardless of use.
What it Can be Used For
Reimbursement of medical care expenses; including health insurance premiums.
Reimbursement of health insurance premiums.
Qualified medical care expenses.

Qualified medical care expenses.

Maximum Annual Contribution
Determined by employer.
Determined by employer.
$3,350 / single*
$6,750 / family*

*2016 limits
Determined by employer, capped at $2,550* per employee.

*2016 limits
Rollover of Funds
Determined by employer.
No.
Yes.
Determined by the employer; $500 maximum.
Access to Funds After Termination
Determined by employer.
Determined by employer.
Yes.
No.
How Do I Know Which is Right for My Company?
As with any healthcare decision, one size does not fill all. Choosing a healthcare plan for your small business is an important decision that you must make and should aim to balance the restraints of your business with the needs of your employees. HRAs, HRPs, HSAs, and FSAs are all very valuable — but they serve different purposes and have their own regulations. which benefit advisors or software solutions can help you manage and keep you compliant.
Conclusion
Sorting through the alphabet soup of HRAs, HRPs, HSAs, and FSAs can be stressful and time consuming, but you don't have to go through it alone. We are here to help you stay informed with accurate and up-to-date information so you can make the best decision possible for your business and your employees.
What made you choose your HRA/HRP/HSA/FSA? If you're still deciding, what questions do you have? Let us know in the comments below!