All sizes of businesses around the world are understanding that really, social media has taken over nearly everything we do. From the way we communicate on a personal level, to the way companies recruit on a professional level, social media is a small business's best friend.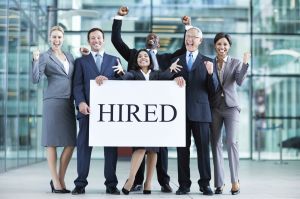 If you're a small business owner or HR professional, you know that keeping up with the times is important. So, what are you waiting for? If you've deliberately chosen to ignore what social media can do for you and your small business, it's time you confront your fears and understand social media. In this article, we'll specifically discuss how social media can and will play a large role in your recruiting if you let it -- it's our HR tip for the day just for you.
Social Media Flashback
To give you a quick idea of just how important social media is, let's first look at how far it has come. According to Lexblogs.com in 1997, the first social media service SixDegrees.com was launched. At its height, it had one million users. Then, in 1999, Blogger.com was launched, allowing users to create their own blog and write whatever they wanted.
Fast forward to 2003 - 2004 and LinkedIn, MySpace, and Facebook are all launched. 2006 Twitter came to light. Since 1997, social media sites continue to conjure up literally millions of follows, posts, and statuses. In fact, every second that goes by, two new members sign up to LinkedIn and eleven accounts are created on Twitter.
Social media is absolutely a driving force in the world. And it's only getting bigger. Which begs the question, how can you use social media to help your small business become more successful?
Today's HR Tip: Use Social Media to Enhance Recruiting
There are many ways in which social media can enhance your small business -- one of the major ways is recruiting. Recruiting is a tough yet rewarding job. Finding a candidate, interviewing, and then training them is all part of a process you really want to go well. Why? The bottom line is money.
It costs money to make a bad hiring decision. Some studies predict that every time a business replaces a salaried employee, it costs 6 to 9 months' salary on average. To prevent bad hiring decisions, how can you use social media?
Promote mobile: Every month, 1 billion job searches are done on a mobile device. The question is, are you ensuring your company is found on smart phones? If not, now is the time to make it happen. Companies like LinkedIn, Monster.com, and Indeed.com are all accessible by smart phone. As you post your positions on these sites, you automatically become part of the 1 billion job searches every month.
Use Facebook, Twitter, etc.: Don't be afraid to start finding candidates over social media. Though sites such as Facebook, Twitter, or Instagram are not deemed as "job boards," they are a perfect place to get your small business's positions in front of potentially thousands of people's eyes.
Post your positions on various social media sites and direct them to your website or the official job listings. Doing this is your way of double dipping in a good way. In other words, you're able to post positions on specific job board sites, then promote them on social media sites -- essentially you're putting your positions out to double the people this way.
Flaunt your stuff: If you're small business offers amazing health benefits and perks, why not make that an eye-catching selling point? Don't leave out the good stuff as you promote your small business on social media sites. You want someone to click on your job post and find out more about your company.
Wondering how to offer amazing benefits and perks? Click here to learn more before you start recruiting.
Conclusion
58 percent of resumes originate from social referrals -- this is an important statistic. It means that social media is not only producing the referrals small businesses and HR professionals are looking for, but also that social media is a huge opportunity for your small business to recruit.
Make social media a key part of your small business's efforts to recruit new, qualified employees. Social media is only going to become a larger force in the world. Now you must ask yourself if social media can help your small business grow -- according to the numbers, it can.
Do you use social media to recruit for your small business? Why or why not? Let us know below.
Don't Miss These Helpful Articles
eBook: A Guide to Lovable Employee Health Benefits
Should Human Resources Managers Use Social Media to Screen Potential Employees?
How to Make 2015 Your Best Recruiting Year Ever - Zane Benefits Feature
Source: Workology