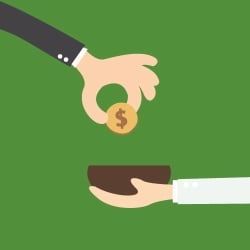 Your small business does not offer traditional health insurance coverage, but you want to help with employees' insurance costs. As such, your business gives employees a taxable raise or bonus to use toward healthcare.
But here's a thought. Your small business could save money, and contribute more to employees' healthcare, by setting up a tax-advantaged reimbursement plan.

Tax-Free Money for Employees' Health Insurance?
Yes, it is still possible. Employers can reimburse employees tax-free for their health insurance expenses by using a formal, compliant health reimbursement plan.
The key here is to use a compliant health reimbursement plan. Under health reform, there are new rules for reimbursing employees' health insurance expenses and new penalties for non-compliance. The penalties are steep - up to $100 per day, per employee.
In other words, employers may still use reimbursement plans for health insurance premiums as long as they follow the new rules.
What Does a Tax-Free Reimbursement Plan Look Like?
Employers may use a self-insured medical reimbursement plan, sometimes called a Healthcare Reimbursement Plan (HRP). Here's how it works:
The business establishes an HRP to give employees a monthly healthcare contribution ("allowance").

Employees purchase their own health plan and submit reimbursement requests through the HRP. Generally, a third party reviews the reimbursement request.

The business then reimburses employees, up to their available balance.
Learn more about how HRPs work (downloadable PDF).
4 Steps to Give Employees Tax-Free Money for Health Insurance
To set up a tax-free reimbursement plan, follow these four simple steps.
1. Determine a Timeline
If the business is currently helping employees with taxable bonuses or raises, or another type of health benefis, consider the timing of switching to a tax-free reimbursement plan.
2. Create a Budget
Decide how much the business would like to contribute monthly to employees' healthcare. With a tax-free reimbursement plan the business only reimburses employees for what they spend.
3. Set Up the Formal Reimbursement Plan
Most small businesses work with a health reimbursement software provider, or other third-party, to set up and help administer the plan. Working with a third party helps ensure compliance and makes administration of reimbursements easy.
4. Educate Employees
Lastly, take time to educate employees about how the tax-free benefit works for them and their families.
Related: How to Educate Employees About Individual Health Insurance Reimbursement
Conclusion
Is there a way to help employees with health insurance tax-free? Yes. Using a formal, compliant reimbursement plan, such as an HRP, allows reimbursements to be tax-free to employees and tax-deductible to the employer.
What questions do you have about tax-free health insurance reimbursement? Leave a comment below and we'll help answer them.