As healthcare costs steadily increase, the cost of employee benefits is a common concern among business owners. Many are cutting back on the percentage of insurance premiums they pay, while others are switching to high deductible plans.
Diving into healthcare options can be a daunting task, especially for entrepreneurs with little help. We are here to provide you accurate, up-to-date information so you can save time and money — and get back to your customers.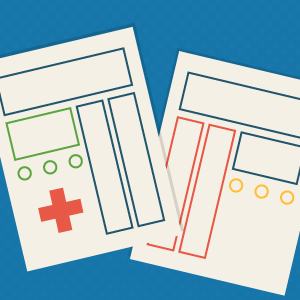 Employee Benefits Options: Cost of Group vs. Individual Plans
If you would like to offer employee health benefits at your company, you have two major options: offer a group health plan or reimburse your employees for individual plans that they purchase on their own. Depending on which option you choose, your costs as a business owner could vary greatly.
In 2015, the Kaiser Family Foundation (KFF) found that the average cost of a group health policy was $521/month ($6,251/year) for single coverage and $1,462/month ($17,545/year) for a family. By contrast, individual policies averaged around $299/month ($3,587/year) for single coverage and $895/month ($10,739/year) for families.
How Group Employee Benefits Work
It is common for employers to split the cost of a group health plan with their employees. According to the U.S. Bureau of Labor Statistics, businesses cover an average of 70 percent of the cost, leaving the remaining 30 percent for employees to pick up. Based upon the data above, this would make your cost an average of $365/month ($4,380/year) per employee.
Remember these numbers are just averages. The real cost of group policies will depend on the number of people on the plan, your location, and the overall health of participants. Be sure to shop around and crunch the numbers before signing a contract with a health insurance company.
How Individual Employee Benefits Work
If offering a group health plan is not in your budget, reimbursing your employees for a portion of their individual premiums is not out of the question. It is still possible to include a health reimbursement arrangement (HRA) in your employee benefits package. This allows you to set aside a designated amount each month to help cover a portion of employees' costs.
Letting employees choose their own individual plans means that they can select a plan more suited for their situation — perhaps high deductible plans work for younger workers with infrequent doctor visits, while a lower-deductible plan is better for someone nearing retirement. Your contribution is added (tax-free) to their paycheck and will only change if you want it to.
Conclusion
When choosing employee health benefits for your small business, it is important to weigh all your options before signing a contract. Group health and individual policies each serve a purpose in today's modern marketplace. You just have to decide which one is right for your business.
What important factors weigh into your employee benefits packages? Which one did you choose? Let us know in the comments below!