Effective September 6, 2016, the Department of Health and Human Services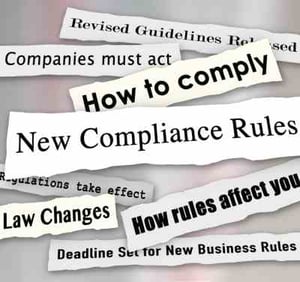 (HHS) has increased monetary penalties for violating HIPAA regulations. If your small business reimburses employees' health insurance, it's important to remember that you are subject to HIPAA laws and any subsequent fines for being noncompliant.
Here's what you need to know about the recent penalty increases.
Behind the Increases
In 1990, the government passed the Federal Civil Penalties Inflation Adjustment Act, which allowed government bodies to periodically adjust for inflation any and all penalties incurred for violating regulations. In November 2015, President Obama signed an amendment to this act, prompting multiple agencies to adjust their penalties.
The enforcement of these penalties will take into account whether a business "did not know" (but then took corrective action) or instead chose to to "willfully neglect" compliance regulations (without any course of correction). Those who have self-reported any mistakes and made an effort to correct themselves will receive lesser penalties.
How This Affects Your Healthcare Reimbursement
Because all health plans (HRPs included) fall under HIPAA laws, you must be very careful in how you choose to administer them. If you are using benefits administration software or a third-party administrator, compliance issues are being handled for you (from paperwork to HIPAA). But if you are self-administering your HRP, you have a lot more to worry about.
In addition to hiring a lawyer to write all necessary plan documents for your HRP, you must also have a HIPAA-certified employee (either internal or outsourced) to handle healthcare reimbursement claims for you. HIPAA regulations clearly prohibit a company from knowing details of employees' insurance or preventive care expenses.
How to Protect Your Business
The easiest way to protect yourself is to use benefits administration software to manage your healthcare reimbursement. Employees submit claims through the software, which are then reviewed and sent back to you with a recommendation for approval or denial.
Managing your HRP in this manner can quell all your compliance concerns because HIPAA-certified professionals are handling it for you. If any changes are made to regulations, they've got that covered too, and will make necessary paperwork adjustments behind the scenes. You'll never have to worry about penalties again.
Conclusion
With the recent increase in HIPAA violation penalties, it's more important than ever to make sure your healthcare reimbursement plan is compliant. Opting to use benefits administration software is an easy way to accomplish this and can save you from hiring lawyers or incurring fines.
What questions do you have about healthcare reimbursement? Leave them in the comments below.