A recent survey by the International Foundation of Employee Benefit Plans (IFEBP) explored employers' reactions to the Affordable Care Act (ACA). Specifically, the IFEBP asked business owners what they were doing to reduce health insurance costs.
The good news is that nearly all respondents expressed interest in continued health insurance coverage for their full-time employees. Only three percent said that they would consider discontinuing coverage within the next five years. While small business health insurance costs are rising for many companies, most businesses are finding a way to move forward.
Increase in Out-of-Pocket Contributions and Deductibles
In order to reduce small business health insurance costs, many entrepreneurs are
opting to pass the cost along to the employees through high-deductible plans and lower employer-share percentages.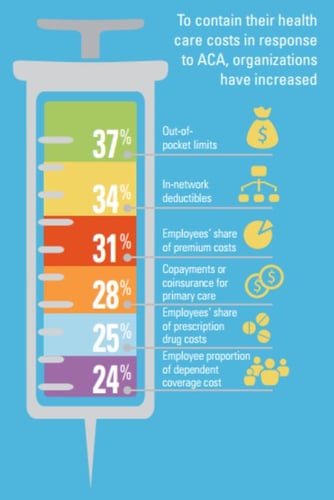 For example, companies who traditionally paid for two-thirds of an employee's health coverage might cut back to half.

Choosing high-deductible plan options typically allows for lower premiums, temporarily alleviating the financial burden on employees. In the short term, this strategy may keep employees happy; however, if a group member needs surgery or is diagnosed with a major illness, the patient may find him or herself paying far more out-of-pocket costs than someone on a low-deductible plan.


Source: International Foundation of Employee Benefit Plans
Reducing Employee Hours to Include More Part-Time Workers
Another lesser-utilized strategy that some small businesses are using to control health insurance costs is to reduce the number of hours that employees are working. Because the ACA considers any person working an average of 30 hours per week to be a full-time employee, some business owners are slimming hours down.
This practice is not widely used, nor even possible for all business owners, but it is worth noting that about ten percent of those surveyed reported that they had already taken this action. In addition, three and a half percent responded that they were planning to do so in the next year.
Alternative Solutions for Small Business Health Insurance
As group health insurance plans continue to pose a financial challenge for employers and employees alike, it is important to look into other health insurance options. Solutions like individual health insurance, defined contribution plans, and co-ops can help alleviate stress and some of the financial burden. With a bit of time and research, it is entirely possible to find a more affordable solution for your small business' health insurance plan.
Conclusion
As the cost of healthcare continues to increase, companies are looking for ways to reduce their overall costs. While most businesses plan to continue offering coverage, unfortunately, the result seems to be that workers are being asked to pay a larger portion of their health insurance costs. However, alternative solutions to traditional group coverage could save both employers and employees money.
What are you doing to control health insurance costs at your company? Let us know in the comments below!