Here are tough statistics to swallow: 90 percent of employers are facing health plan premium increases, with nearly a quarter (23 percent) of employers seeing rate increases in the double digits. As a result, employers are making tough decisions about how to offer competitive benefits while also controlling costs. This is according to the 2015 Arthur J. Gallagher & Co. (Gallagher) Benefits Strategy & Benchmarking Survey.

The recent Gallagher survey sheds light on what most employers know all too well. Continual annual health plan increases pose significant challenges to both the budget and to recruiting and retaining quality employees in a tightening workforce. The survey also sheds light on strategies employers are using to adapt to the current market. Here is a summary of key trends and data points.
Health Plan Premiums Continue to Rise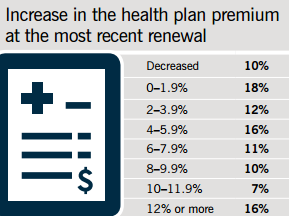 Of those surveyed, 90 percent indicated an increase in the health plan premium at the most recent renewal, with 23 percent saying the renewal was 10 percent or higher.
In fact, employers say the greatest challenge is controlling benefit costs, followed by attracting and retaining a competitive workforce, and maintaining or decreasing overall operating cost.
Despite the cost challenges, however, the survey found nearly all (97 percent) of employers were committed to provide employer-subsidized medical benefits to their employees.
Cost Containment Strategies
When it comes to controlling health plan costs, the most predominant strategies will sound familiar: 67 percent are increasing employee cost-sharing and 49 percent are considering changing health insurance plans.
As the survey found, however, employers will need to look beyond shifting costs to employees and jumping from plan to plan to manage costs - especially as the Cadillac tax takes effect in 2018. Strategies such as offering a high-deductible health plan with an HSA, changing the funding arrangement, and narrowing provider or pharmacy networks may become more popular strategies in the next few years.
Wellness Programs
The survey found over 40 percent of respondents, including 70 percent of employers with 1,000 or more employees, offer wellness programs. The most popular offerings include wellness communications, flu shots, health risk assessments, biometric screenings, and wellness committees.
The big challenge with wellness programs, according to the survey results, continues to be participation. To increase participation, employers are using cash or gifts, premium discounts, contributions to HSAs, HRAs, or FSAs, or additional paid time off.
Conclusion
As employers wrap their heads around the changing healthcare landscape, the survey suggests employers should invest time to align organizational goals with benefits, take a comprehensive approach to healthcare cost control, and make employee communications an integral part of the strategy.
About the Survey
Gallagher Benefit Services, Inc., the Employee Benefits Consulting and Brokerage operations of Arthur J. Gallagher & Co., developed the Benefits Strategy & Benchmarking Survey to provide employers with insights and best practices for managing benefits costs while also attracting and retaining top talent. The 2015 survey included responses from 3,031 organizations, which is a 66 percent increase from the company's 2014 sample size. Additional survey results and methodology can be found at www.ajg.com/NBS_2015.
What are your takeaways about the survey results? Is your business facing health plan premium increases in the coming year? What cost containment strategies are you implementing? Leave a comment below.