Employee retention is valuable to most employers, but Glassdoor's 2016 statistics highlight the importance of holding onto good employees.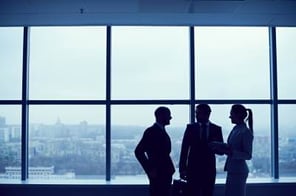 Recruiting worthy workers is both time consuming and expensive. It isn't as simple as posting an ad and interviewing candidates. Instead, as Glassdoor stated, recruiting and retaining employees "starts from the inside out." To obtain and keep the best, employers must focus on employee engagement with a clearly defined mission and transparency.
Recruiting Costs and Turnover
The average amount of money that a U.S. company spends to fill an open position is substantial at $4,000, and the process takes approximately 52 days. Keep in mind that this doesn't include the time that it takes to train the new recruit.
Turnover is likely to increase in the future. Ninety percent of recruiters (up from 54 percent in the second half of 2011) believe that candidates drive the market. Currently, 51 percent of employees are considering a new job, and two-thirds of the millennials that Deloitte surveyed hope to leave their current place of employment by 2020. While sometimes the fit between employer and employee just isn't right, there are many situations in which employers fail to put enough effort into retaining workers.
Employee Engagement
To motivate employees to act as brand ambassadors for a company, its executives and managers must actively engage the employees. While 90 percent of employers recognize the significance of employee engagement, less than half said they know how to do so. Last year, a mere 32 percent of employees felt engaged in their positions.
How can a company improve employee engagement? There are a variety of ways, but one of the most powerful is to align one's company with a clear purpose – preferably one that lies beyond pure profit. The Deloitte Millennial Survey found that nearly 9 out of 10 millennials believe that a company's success should be measured in terms other than financial earnings. Of those who intend to stay with their employer for five years or longer, a majority cited "a sense of purpose" as a top motivating factor for remaining loyal.
Company engagement isn't just beneficial for attracting and keeping employees, it increases productivity. Those companies that provide employee engagement programs attain a 26 percent greater increase in revenue from year to year than those that don't provide such programs.
Transparency
Employer transparency fosters trust, resulting in turnover reduction. Sixty-seven percent of surveyed employers believe that being honest with a job candidate about what she or he can expect while working at the company would improve retention rates. Thus, when interviewing candidates, employers should present both the pros and the cons of working for the organization. This will benefit both parties in the long run because the person who accepts the position will be better prepared for and willing to accept the challenges of the job.

Companies can also increase transparency and trust by communicating clearly and regularly with employees and refraining from questionable business practices.
Conclusion
Glassdoor's recent statistics show just how expensive and time consuming recruiting can be. This is why every company needs to work harder to retain good employees.
Download our employee retention eBook to learn how to keep your most valued employees without breaking your budget.

What questions do you have? Let us know!