This small business "101" article looks at employer paid healthcare in the U.S.
What is Employer Paid Healthcare?
Employer paid healthcare (aka employer-sponsored health insurance or group health insurance) is health insurance that is paid for by an employer on behalf of their employees. It is usually the foundation of an employee benefits package.
How Does it Work?
The employer selects a plan (or plans), and typically makes a substantial contribution towards the cost of the premium. In 2013, employers paid 82% of the insurance premium for their employees, and about 71% of the premium for their employees' dependents (source).
The employee pays the remaining portion of the premium, usually with pre-tax/tax-exempt earnings via a Section 125 Cafeteria Plan. The premium portion paid by employers is also tax-favored.
How Many Small Businesses Offer Employer Paid Healthcare?
While nearly all large employers in the U.S. (with 200+ employees) offer group health insurance to their employees, small businesses have struggled to keep up with the increasing costs of coverage.
For the last 15 years, large businesses have offered group health insurance at a rate of 97-99%. However, in 2013 only 57% of smaller businesses with fewer than 200 employees offered health insurance. And, the smaller the business the less likely they are to offer healthcare. For example, among micro businesses (with fewer than 10 employees), only 45% offered health insurance in 2013.

Image source: KFF.
How Much Does Healthcare Coverage Cost?
In 2013, the national average cost to cover a single employee with group health insurance was $5,884/year. For family coverage, the cost was $16,351/year. Since 1999, the cost to cover a single employee has increased 168%, with family coverage increasing 182%.
With the introduction of the Affordable Care Act's new plan and fee requirements, many small businesses are predicting even steeper group health insurance premium increases in 2014. For example, the Centers for Medicare and Medicaid Services (CMS) predicts that 65% of small businesses will see ACA-related premium increases in the coming years.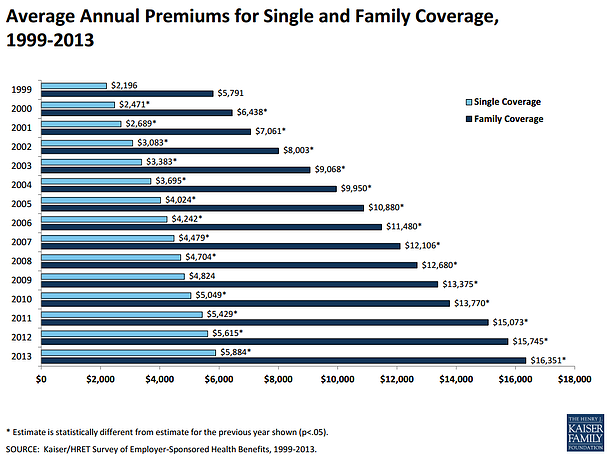 Image source: KFF.
Are There Alternative Ways to Offer Healthcare?
Because of the unsustainable cost of employer paid healthcare, many small businesses are dropping group health insurance and looking for alternative ways to offer employees healthcare.
The most popular alternative is offering health insurance allowances instead of group health insurance. With this type of "pure" defined contribution healthcare, employees are reimbursed for a health plan they purchase on the individual health insurance market.
This alternative allows small businesses to contribute to employees' healthcare and allows employees to pick a health plan of their preference. It also empowers the small business to control the cost of health benefits because they set any amount to contribute to employees' healthcare.
Read more about "pure" defined contribution healthcare here.