A decade-long trend of moderate increases for employer-sponsored health insurance premiums continues, with premiums increasing 4 percent in 2015, to $17,545 a year for a family. Additionally, deductibles for employees have risen nearly three times as fast and premiums and seven times as fast as wages and inflation. These are the key findings from the annual Kaiser Family Foundation (Kaiser) and Health Research & Educational Trust (HRET) health benefits survey, released this week.

As employers evaluate health benefits budgets and strategies for the coming year, the survey provides insights on employer-sponsored health insurance. Here is a summary of key data points and charts.
Key Trends in Employer-Sponsored Health Insurance
According to the 2015 Kaiser and HRET survey:
In 2015, the average premium for single coverage is $521 per month, or $6,251 per year. The average premium for family coverage is $1,462 per month or $17,545 per year.

Premiums for both single and family coverage rose 4 percent over the 2014 average premiums. During the same period, workers' wages increased 1.9% and inflation declined by 0.2%.

Since 1999, premiums have increased 220% for single coverage and 203% for family coverage.

Deductibles are rising much faster than premiums, wages, and inflation. In 2015, 81 percent of covered workers are in plans with an annual deductible of $1,318 for single coverage this year.

In 2015, 57 percent of employers offer health benefits to at least some of their workers, statistically unchanged from 55 percent last year.

Small employers are much less likely to offer health insurance. While 98 percent of large employers (200 or more workers) offer coverage, less than half (47 percent) of the smallest employers (three to nine workers) offer coverage.

The most common type of health insurance plan offered is a PPO, accounting for 52 percent of plans. The second most common type of plan is an HDHP, now accounting for nearly a quarter (24 percent) of all plans offered.
Survey Charts - Visualizing Trends in Employer-Sponsored Health Insurance
To help get a visual on the trends, here are selected charts from the survey.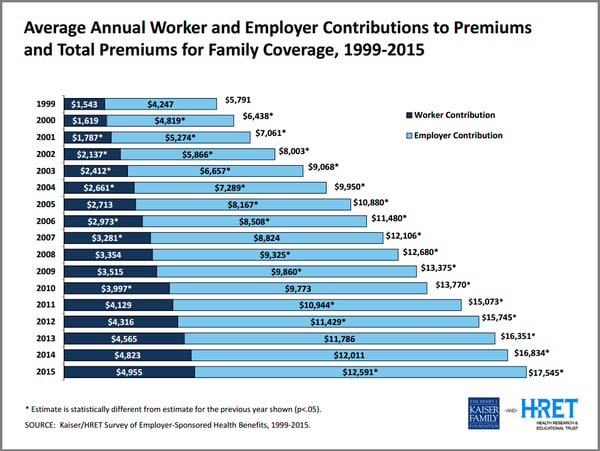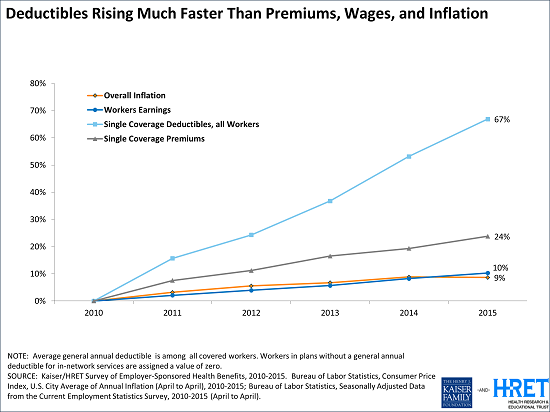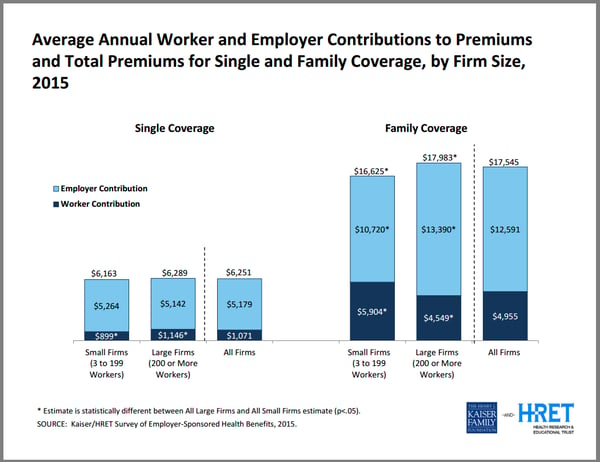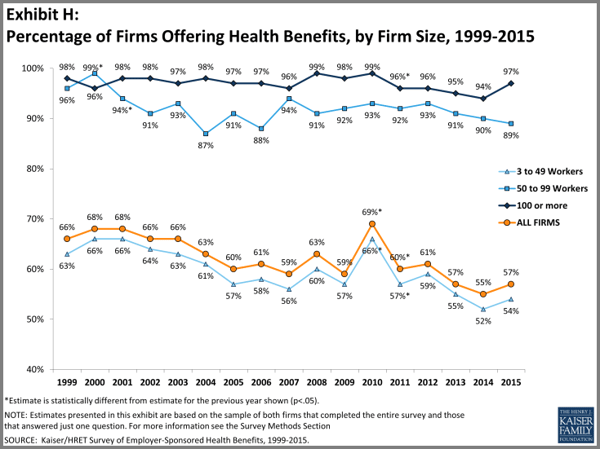 About the Survey
The 17th annual Kaiser/HRET survey of nearly 2,000 small and large employers provides a detailed picture of the status and trends in employer-sponsored health insurance, costs and coverage, including employers' responses to provisions of the Affordable Care Act. The full survey, and interactive graph, methodology, and a chartpack can be found on Kaiser Family Foundation's website.
What are your takeaways from this year's employer-sponsored health insurance survey? What trends are you seeing in the market? Join the discussion with a comment below.