Small businesses and startups want to offer health insurance, but often struggle to afford traditional group health insurance. In fact, cost is the number one reason why more than 50% of small businesses do not offer traditional health insurance. One solution for small business owners is to set up a program that helps with the cost of employee paid health insurance.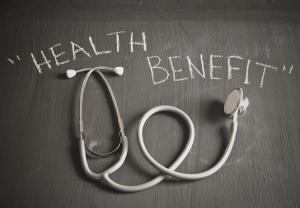 What is Employee Paid Health Insurance?
Employee paid health insurance is a term used for health insurance that employees purchase on their own, just as they would car insurance.
For example, employees purchase an individual or family health insurance policy (also called a personal health insurance policy) through a broker, the new state Health Insurance Marketplaces, or online.
Individual health insurance policies are, on average, less expensive than group health insurance and are purchased and owned by the employee. Eligible employees can access the federal health insurance tax credits which provide significant cost savings on premiums. And, as of 2014, employees cannot be denied individual health insurance coverage because of a pre-existing health condition.
4 Ways Small Businesses Help with Employee Paid Health Insurance
There are four main ways small businesses help employees with the cost of their individual health insurance. Note: Numbers 2, 3, and 4 are not recommended. We'll explain why.
1) Provide a Defined Contribution Allowance
The most popular way small businesses help with employee paid health insurance is by setting up defined contribution allowances. From a cost and compliance standpoint, this is the only recommended way to help with the cost of employees' individual health insurance.
To set up defined contribution allowances, small businesses should setup a formal plan to ensure compliance with the ACA, the IRS, HIPAA, and ERISA. Because of new ACA reforms, most small businesses will use a limited purpose Section 105 medical reimbursement plan, such as a Healthcare Reimbursement Plan (HRP), as the foundation of their defined contribution health plan.
With defined contribution allowances:
The employer provides each employee a fixed monthly allowance (a group health insurance plan is not offered).

Employees select and purchase any individual health insurance policy. Employees pay the health insurance company directly for the policy.

Employees use their defined contribution allowance to reimburse themselves for their insurance premium, up to the amount of their allowance.
2. Give Taxable Raises or Bonuses
While not recommended, some small businesses consider giving employees a taxable raise or salary bonus to help them pay for their individual health insurance.
On the surface, providing raises or salary bonuses to employees may seem cheaper and simpler than reimbursing employees' insurance premiums through formal defined contribution allowances. But there is one major consideration favoring defined contribution allowances for small businesses: Tax and overall cost savings.
By offering defined contribution allowances instead of giving raises to employees for health insurance, both the small business and employees save money (read more here).
3. List-Billing (With or Without Defined Contribution Allowances)
Some insurance companies allow employers to set up List-Billing for their employees. List-Billing is a process that allows an employer to facilitate employees' purchase of individual health insurance policies via post-tax payroll deduction.
Under a List-Bill arrangement, a health insurance carrier sends an employer a single bill for each employee's personal health insurance policy.
The employees (not the employer) pay their premium in full, usually through payroll withholding (post-tax), and the employer transmits the payment to the insurance company on behalf of the employees.
Although not recommended, some small businesses use a List-Bill arrangement with their defined contribution health plan to reimburse employees for their premium expense (or a portion of the premium).
However, many Defined Contribution Software providers do not allow the use of List-Bill arrangements with a defined contribution health plan because List-Billing creates potential HIPAA/ERISA violations for the employer (read more here).
4. Pay Directly for Employees' Individual Health Insurance Premiums
Some small businesses might want to pay directly for employees' individual health insurance plans without setting up an ERISA and HIPAA-compliant defined contribution plan, but doing so may put the business out of compliance with federal regulations and may increase the business's (and employees') tax liability.
Therefore, this approach to help with employee paid health insurance is not recommended.
To summarize, federal regulations prohibit employers from paying directly for employees' personal health insurance premiums, outside of a Section 105 defined contribution health plan or other ACA/IRS/HIPAA/ERISA-qualified vehicle (e.g. Section 125). Read more here.
Questions? Leave a comment below.