The annual cost of healthcare for a typical American family of four, covered by an average employer-sponsored health insurance plan, is $24,671 a year -- up 6.3 percent from 2014. The amount will almost certainly surpass $25,000 in 2016. This is according to the 2015 Milliman Medical Index (MMI).

The 2015 Milliman Medical Index (MMI) provides a unique snapshot of healthcare costs in America for both employers and employees. Instead of just looking at the employer's cost of health insurance or the family's medical expenses, the MMI takes into account the combined cost of employer-sponsored healthcare including:
Premiums the employer pays to cover the family,

Premiums the employee pays for coverage, and

Out-of-pocket expenses the employee pays for medical care.
Cost of Healthcare Nearly Tripled Since 2001
According to the 2015 MMI, the total annual cost of healthcare to cover a typical family of four through an employer-sponsored plan is $23,215. Last year's 5.4 percent growth rate was the lowest in the history of the MMI. This year, the growth rate has again climbed, increasing to 6.3 percent in 2015.
Since 2001, costs for a typical family of four have nearly tripled.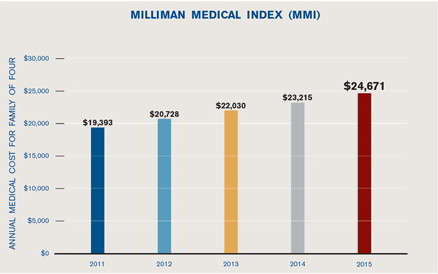 Employees Taking on More Healthcare Expenses
According to the MMI, employers continue to shift healthcare costs to employees.
The total employee cost (payroll deductions plus out-of-pocket medical expenses) increased by 43 percent from 2010 to 2015, while employer costs increased by 32 percent.
Of the $24,671 in total healthcare costs, $14,198 (58 percent) is paid by the employer, $6,408 (26 percent) is paid by the employee through payroll deductions, and $4,065 (16 percent) is paid by the employee for medical care.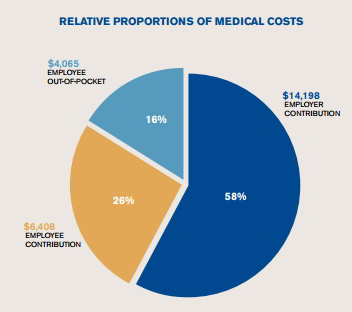 Source: 2015 MMI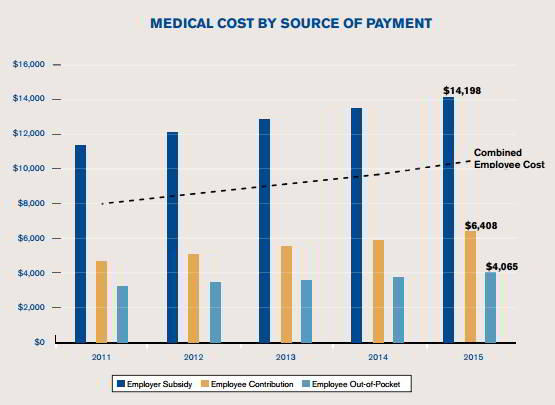 Source: 2015 MMI
Why the Rise in Healthcare Costs?
The MMI report discusses one major influencer for the increase in healthcare spending in 2015: pharmaceutical costs.
Prescription drug costs spiked significantly, growing by 13.6 percent from 2014 to 2015. Growth over the previous five years averaged 6.8 percent.
The report also discusses the impact of the Affordable Care Act (ACA), including the impact of the 2018 Cadillac Tax and the growth of the individual health insurance market.
Click here to read the full 2015 MMI report.
Conclusion
As the cost of employer-sponsored health insurance continues to rise, employers are shifting more costs to employees and evaluating strategies to respond to health reform. What stands out to you? Join the discussion below.