Few small business owners want to feel cheap, however most want to find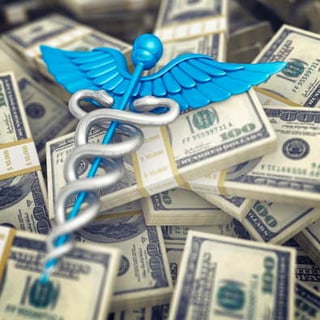 affordable, efficient business solutions. Health benefits are no different. In a marketplace where expensive group-based health insurance are the norm, finding cheap - and quality - health benefits may seem elusive.
One popular health benefits approach for small business owners concerned about cost and about meeting the benefits expectations of employees is to reimburse individual health insurance premiums - instead of purchasing a group health insurance policy. To understand how and why this approach can save small business owners 20 to 60 percent on health insurance costs, here are 6 tips.
Note - This blog post is based off our new infographic, 7 Truths About The Cost of Health Insurance In America. Check out the full infographic here.
Tip #1 - Individual Health Insurance Costs Less
Nationally, the annual cost of individual health insurance is less than the average annual cost of group health insurance for most people.
On average, individual health insurance costs 43 percent less for single coverage and 39 percent less for family coverage.
For those who are eligible for the federal subsidies, individual health insurance costs, on average, 60 percent less for single coverage and 68 percent less than family coverage.
Read More: Individual Health Insurance Costs - A Win for Small Businesses?
Tip #2 - Employers Who Offer Health Insurance Pay 83 Percent, On Average
Across the nation, employers are contributing 83 percent for single coverage and 72 percent for family coverage.
Small employers tend to pay slightly more (85 percent) of single coverage and significantly less (65 percent) of family coverage.
Because of the high costs and contribution requirements of traditional company-provided health insurance policies, many small employers are taking a second look at individual health insurance reimbursement strategy.
Tip #3 - Control All Costs with Individual Health Insurance Reimbursement
When an employer decides to reimburse health insurance premiums, instead of paying for them, the employer controls all costs. Rather than paying premiums to the insurance company, the employer sets a monthly allowance to reimburse employees for their premiums. Because individual health insurance costs less, the employer (and employee) contribution goes farther.
In fact, the average employer could fully fund an individual family policy for less than they could fund a portion of that family's coverage under a group policy.
Read More: Individual Health Insurance Reimbursement - The Employer Cost, and How to Do It
Tip #4 - Premium Tax Credits Make Insurance More Affordable
As I wrote about last week, the premium tax credits make individual health insurance affordable for many employees and owners. The tax credits are available for plans offered on the public Marketplaces and eligibility is based on income. Last year, 85 percent of shoppers were eligible for a discount with an average tax credit of $272/month.
Tip #5 - Individual Plans are Not One-Size-Fits-All
Under the Affordable Care Act, individual health insurance plans have become more standardized, but are still not one-size-fits-all.
In fact, employees who purchase individual health insurance are able to select the carrier, coverage level, network of providers, and cost structure.
At the same time, picking a health insurance plan can be a daunting task. Here are a few more tips to help.
Tip #6 - For "Cheap" Health Benefits, Go Individual (Not Group)
Because of the cost savings of individual health insurance policies, it makes sense for business owners to build benefits around individual policies, not a group policies.
Here at Zane Benefits, we see customers save 20 to 60 percent on annual health benefits, when compared to traditional group health insurance policies.
Infographic - 7 Truths About Health Insurance In America
For more facts about the cost of health insurance and small business health benefits check out the full infographic below.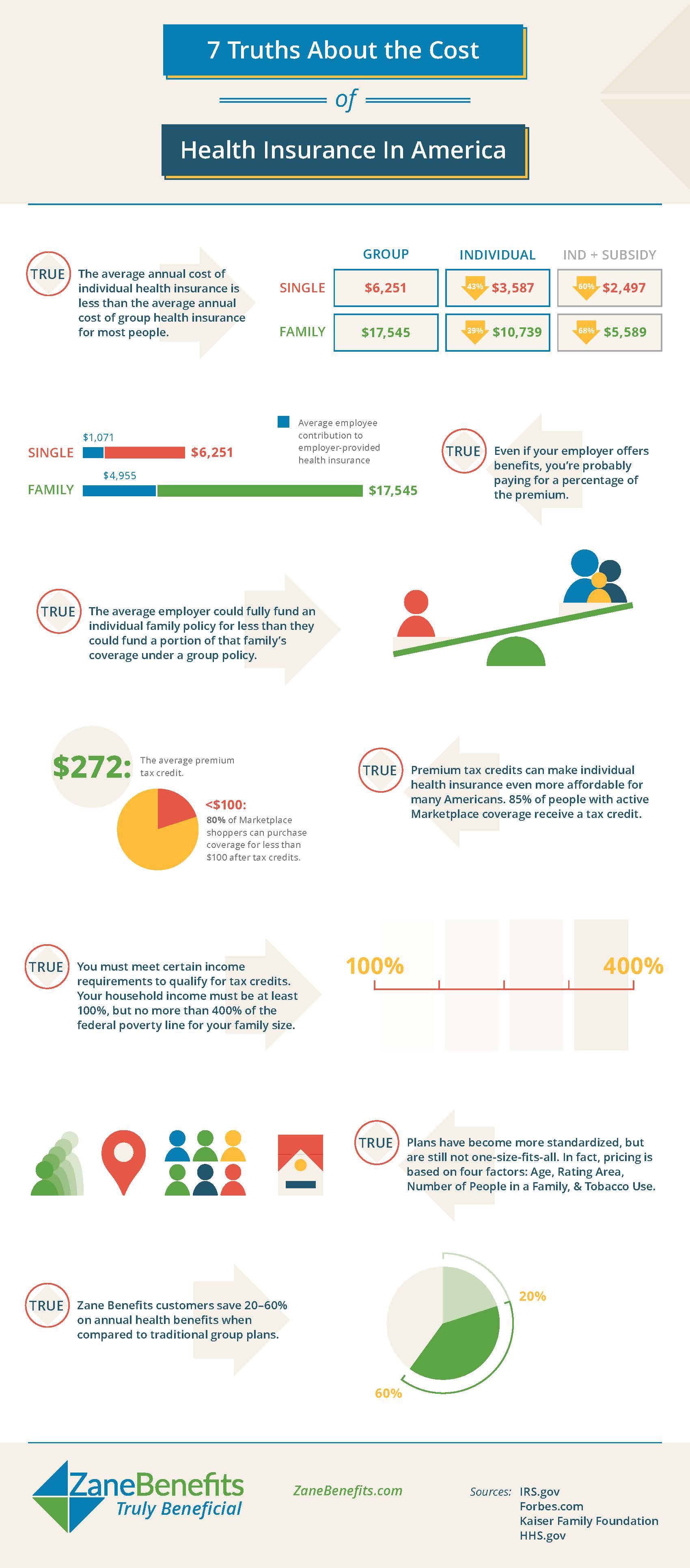 Conclusion
Health benefits are a vital component of compensation offered to employees, and for many smaller employers health insurance is out of reach. One solution particularly well suited for smaller employers is to implement an individual health insurance reimbursement program. With this approach, employers can offer affordable, attractive benefits… without seeming cheap at all.
What do you think? What are your tips for cheap health benefits? Leave a question or comment below.