Small and medium sized businesses are canceling traditional health insurance. But that doesn't mean businesses are canceling health benefits all together.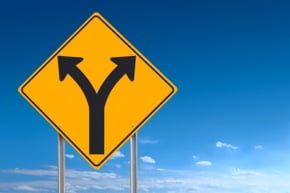 Instead, they are looking for ways to get out of the business of health insurance while still contributing to employees' health care.
This demand for affordable and sustainable health benefits is fueling a massive shift among small and medium sized businesses from group health insurance to "pure" defined contribution, paired with individual health insurance.
Why Small Businesses are Canceling Health Insurance
Small and medium sized businesses are canceling traditional health insurance (group health insurance) because the cost is unsustainable to the business and employees. The traditional model no longer makes sense in today's post-ACA landscape.

How did we get here?
The cost of group health insurance has been on a steady increase over the last decade, and the Affordable Care Act (ACA, aka "ObamaCare") introduces new fees and regulations. While the premium rates slowed in 2013, forecasts are predicting an uptick in premiums in 2014 and 2015.
In addition to costs pushing small businesses out of group health insurance, there are several factors pulling small businesses toward individual health insurance and defined contribution.
Small businesses (with fewer than 50 employees) are not subject to the employer mandate fees for not offering group health insurance. Medium sized businesses (with 50-99 full-time equivalent employees) are not subject to this requirement until 2016. This opens up health insurance alternatives without having to factor in potential penalties.

On average, individual health insurance costs employees less than group health insurance (read more here about why).

There are new advantages on the individual health insurance market including guaranteed-issue (employees with pre-existing health conditions can get coverage) and significant discounts on premiums for eligible employees (via the individual health insurance tax credits).

Under the ACA's "individual mandate", all employees are required to either have health insurance or pay a tax penalty in 2014 of $95 or 1% of income, whichever is greater. This means more Americans than ever before are covered under an individual health plan, and asking their employees if or how they can help.
Because of these factors, businesses are canceling health insurance and re-thinking how they offer health benefits.
How to Cancel Health Insurance and Still Offer Health Benefits
For most (if not all) small and medium sized businesses, the solution to the Affordable Care Act's new challenges and new opportunities is simple: Offer employees health insurance allowances and free the business from the cost and complication of group health insurance.
This strategy is called "pure" defined contribution healthcare, and it works because it offers the business predictable costs while giving employees access to quality health insurance.
With defined contribution, small businesses give employees a set monthly amount to spend on their own health insurance policy. Employees can purchase a policy in a state health insurance exchange, or through the private market via a broker, online, etc.
Then, employees can use their employer-funded allowance to be reimbursed for qualified health insurance premiums, up to the amount in their balance. To stay compliant, the plan must be formally administered to meet certain requirements of the IRS, HIPAA, ERISA, and ACA.
To cancel health insurance and offer health benefits with a defined contribution approach, businesses follow these four simple steps:
Step 1 - Set a date to terminate your group health plan (if you have one).

Step 2 - Define any amount the business can afford on health benefits and work with a defined contribution software provider to set up the plan and allowances.

Step 3 - Select an Insurance Professional of your choice to help each employee find the right individual policy, and/or direct employees to your state's Health Insurance Marketplace.

Step 4 - Utilize online defined contribution administration software to reimburse employees.
With a "pure" defined contribution model, the employer gets out of the business of purchasing and offering health insurance. This is a significant change for employers, employees, and health insurance brokers.
While change can be hard, the good news is that with defined contribution there are big wins for employers, employees, and health insurance brokers.
See: Pure Defined Contribution Health Models - A Win-Win-Win Solution.
Questions? Leave a comment below.